10 Chic Kid's Room Designs
10 Chic Kid's Room Designs
Home planning is all about taking calculated risks. If you are setting up your kid's bedroom, go with something that is chic, exciting and practical. When deciding on a kids room design if you put in the effort to find the right colors, designs, and furniture, you will end up creating a space they can love and cherish for so many years. Here are ten ideas that will help you on this journey.
1. Fun Bunk Beds 
If you have two kids staying in a room, bunk beds are the best way to save space. Not only will your kids have fun sleeping above or below each other, but you can come up with fun ideas to make the bunk beds seem cooler – such as designing them like a puppet theater!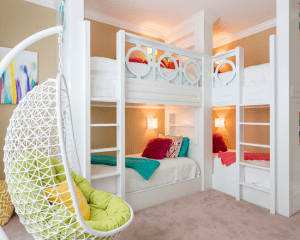 Houzz.com- Beaton's Runion Resort Home
2. Pink Theme 
When crafting a young girl's room, pink is always a good place to start. A classy pink on the walls, combined with pink bedding, is so simple yet will make them feel at home in the room from day one!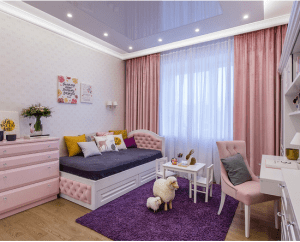 Houzz.com- Pink Kids Room
3. Fancy Walls 
Does your kid have a favorite cartoon, movie character, performer or sports team? Maybe as part of the kids room design you can place a scene from something they love onto the wall through a gorgeous paint job. Wall murals are all the rage, and it will add so much personality to the room.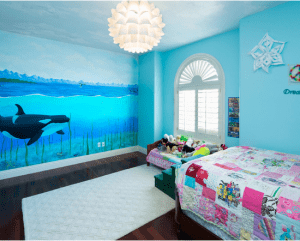 Houzz.com- Fontana Painting LLC
4. Simple Stripes 
When they are done right, stripes can look great in a kid's room. Choose color combinations such as blue and orange, with some white and yellow in there, and you have the basis for the room's walls, bedding and/or carpet.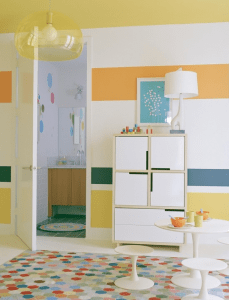 Houzz.com – Striped Kids Room
5. Fun Accessories 
A wall mural can take a lot of work, but adding personal touches to the walls and roof is not difficult. They can take the form of trophies, certificates, posters, pictures or keepsakes. Each item adds character to the room.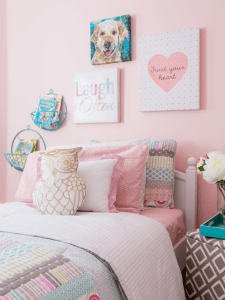 Houzz.com – jo Alcorn
6. Adventure Time 
If you are struggling for ideas regarding a wall mural or giant poster, the world is one option. Many kids love to learn about new countries, cultures, and places, and having a map of the world on the wall would make your kid's room feel like an adventure space all the time!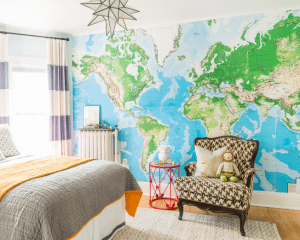 Houzz.com -Dina Holland Interiors
7. Polka Dots
Everyone loves polka dots, especially when they are younger. Adding them to the room through the bedding or curtains is a wonderful way to spice up the bedroom!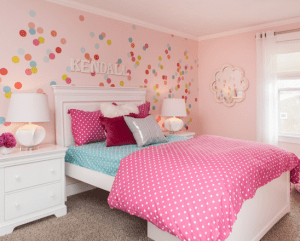 Houzz.com – Niche Interiors
8. Plush Rugs 
Rugs are an accessory that always adds character and comfort to a room. A few plush rugs around the bed not only make the room feel so cozy but create a space where people can sit on the floor.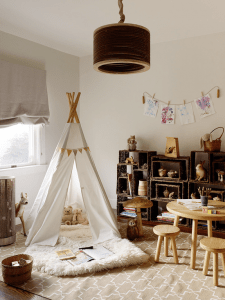 Houzz.com – Jute Interior Design
9. Patriotic Colors 
One way to decorate a kid's room, and stir up their patriotism, is to use the colors red, blue and white in combination with each other. Red walls, a blue and white carpet, along with white bedding can work very well together!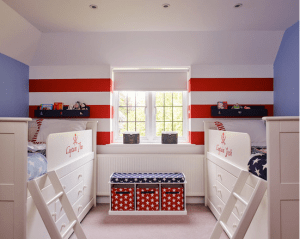 Houzz.com- Sarah Finney Interiors
10. Beach Vibe
As your kid gets older, they may want their room to look fun and casual. A beach theme is a great way to add some fun to the room – and you can do it through the lounge chair, bedding, and other accessories.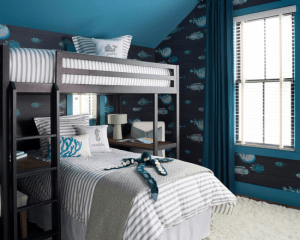 Houzz.com- OPaL LLC
Read More Blog Articles