10 Inspirational Kitchen Renovation Designs- Wood & Stone
10 Inspirational Kitchen Renovation Designs- Wood & Stone
Kitchens are often the heart of the home. It's where we gather to eat, drink and talk about the day. With big families, kitchens have a constant flow of people moving in and out and they need to be able to accommodate all ages of people living in the home. They should also reflect your personal style. The trend of mixing the natural elements of wood and stone is classic and increasing in popularity. Here are 10 kitchens that do a nice job of marrying these two elements.
Keep in line with your home's style throughout your kitchen design. This rustic chic room gives off a warm vibe with stone décor and blonde wooden cabinets.
Galley-style kitchens work well for flow. Cook and prep on one side and eat and enjoy on the other.
Kitchens modeled off of commercial ones are ideal for large families – And parties! Timber softens the stainless steel appliances and cabinets. Open shelving doesn't let anything get in the way when you need a glass or plate.
Doors on each side of the room help keep a smooth flow of traffic in this modern kitchen. A kitchen remodeler can help you achieve this look. Marble countertops that runoff to the floor help achieve a sleek look.
Wood cabinets combined with wood flooring in a different color stain makes a statement. Modern cabinet pulls and white countertops give it a clean feel.
This is a kitchen meant to impress! Despite its massive size, natural elements such as stone and wood make it feel earthy and welcoming.
A beautiful floor can make a kitchen shine. Island countertops at different heights work well for varying tasks like chopping and eating. Add in a couple bar stools for those who like to be in the center of it all.
A great trick for a kitchen without much room is to add an island. For a cohesive look, hire a kitchen remodeler to use the same woodwork throughout.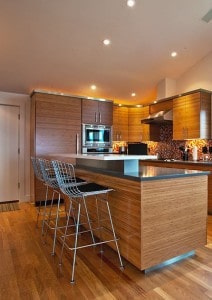 This kitchen shows how to utilize a space with exceptionally tall ceilings. The steel-paned window lifts the eyes up to the wooden paneled ceiling. The shelves that go all the way up to the ceiling help keep everything organized while keeping with design of the room.
Earth tones travel throughout this space from the stone accents to the timber cabinets, floor and furniture. Eliminating blinds and curtains lets more of the outside in.
Ultimately a mixture between wood and stone elements is a great way to bring a natural feel to your kitchen. There are many ways to incorporate the style and truly make it your own— Imagine all the possibilities!
Aren't in love with your kitchen? There's a way to fix that! Take your kitchen from drab to fab with the help of a kitchen remodeler.