12 Tips to Simplify Your Bathroom Remodel
Tips From Our Designers
A bathroom renovation is a big deal for any home since it can really tie together your home renovation or remodel in the most subtle of ways.
Going into any redesign of a room in your home, it's always helpful to have some tips to simplify your bathroom remodel.
Be a Planner
Make sure that you plan out everything. From the general design you are going for, the professionals you are bringing onto the project, your "all-in" budget, and more. Having it all planned out will make it much easier to successfully tackle the details that will start coming your way in both the short and long-term.
Determine Costs Ahead of Time
It can be common to go over-budget with a renovation, so also plan for a safety net. Making sure that you have a general expectation of cost will make it much easier to stay within your overall budget and keep things affordable. Use our loan-to-value worksheet to plan your remodeling finances.
However, an "all-in" budget, also known as a safety net, will help when it comes to negotiating projected cost ranges with your home builders. When you have a general cost range, ensure the higher end still falls safely within your "net" or "all-in" budget.
Splurge on High-End Essentials
Remember the things that are most important to you during this bathroom renovation and splurge on those things. This is supposed to be a bathroom you love, so figure out what will help get it there and make sure to not cut costs in those areas.
Try to Follow Existing Floor Plans
Planning something that goes against the existing floor plans in your bathroom is not only expensive but also complicated! Following existing floor plans is a surefire way to get the most out of what you already have. This is the most effective way to simplify your bathroom remodel.
Put Through into Lighting
Lighting can make or break any renovation, but particularly when it comes to bathrooms, lighting is critical! This is a room where you will check your makeup, clean yourself, and store your personals. Quality lighting is crucial – treat it as such.
Research Flooring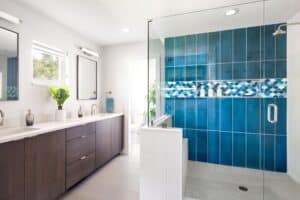 While wood flooring or plush carpeting may be desirable in other rooms, it probably won't be in a bathroom with regular moisture. Research common tiles and materials for the flooring to ensure it lasts and protects, while still matching your target style.
Leave Wall Room
Though it may be tempting to opt for the big mirror and other wall fixtures, leave some space for décor! Having a piece of art or even just some negative space can make a huge difference with the design of the room.
Put Thought into Toilet Position
Making mistakes like positioning the toilet facing the door or having it too close to other fixtures is a big faux pas. Try to remember during the planning to position the toilet ninety degrees to the door and several feet away.
Lighter Color Schemes Help with Size
Since bathrooms are typically small in nature when compared to other rooms in the house, opting for lighter color schemes like white and cream can help with making it feel roomier.
Mirrors are Important Design Elements
Mirrors aren't just for the purpose of reflecting your beautiful face. They are also a significant design element that can make the room feel bigger and add to the lighting, so considering multiple mirrors throughout the room can have a significant impact.
Design with the Future in Mind
This is your future dream bathroom! Keep your future needs such as possibly family additions, potential guests and other important factors in mind when deciding what elements to implement and install, such as a bath vs. shower, bidet vs. no bidet, etc.
Read More Blog Articles