2 Simple Tips: Don't let your remodel get out of control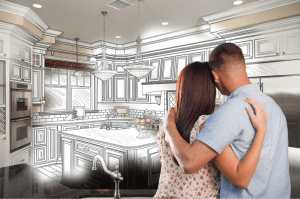 Whether it is your first home or your last, there is nothing like deciding to move forward with that dream remodeling project.
Remodeling your home, be it one room or a whole-home undertaking, can bring with it a certain degree of jitters; half from excitement and half from nervousness. All the feelings you experience during this process is absolutely understandable – and normal! Having a room in your home changed will forever alter the room's chemistry. It will change the "feel" of the room.
This is why home remodeling is such a big deal: change.
Some love it, others… not so much. In either case, changing an area of your indoor – or outdoor – living space can be a little nerve wracking. Still, you decide to press on because you know in your heart that the results will be worth every moment!
Imagine; your new living area looking exactly as you dreamed it would. The beauty, the elegance, the new found charm. Whether it's opening up your kitchen, dining room, and living room, or building the master bedroom of your dreams – this new home design will be breathtaking.
As long as it doesn't spiral out of control!
To help put your mind at ease, here are two things to look for to help ensure your remodeling project doesn't get out of control, keeping things right on schedule.
Look for a Focus on Employees vs. Subcontracting
According to Consumer Reports, about 31% of contractors use inexperienced laborers on big projects, essentially throwing out the promise of quality. This means that the odds are fairly high that the company you choose will use unskilled labor. This can lead to extended schedules, extra costs, and less quality than you expected.
Because of this, you should always do a little bit of research into the contractor you choose. Make that they have a real focus on employees vs. subcontracting. An emphasis on subcontracting means they simply pass down certain aspects of your home remodeling project. This is sometimes needed, but it shouldn't be the focus. A contractor should have skilled employees predominantly, giving greater control over deadlines and quality back to the contractor.
Look for Accumulated Awards
Awards show a company's success as it is recognized by third parties. While some may not put emphasis on the awards a company has accrued, it should, in reality, be given much greater weight in your decision making. When a company has been awarded, it illustrates their commitment to excellence, providing their clients with quality service, construction, and workmanship.
Finding the Right Contractor
Melton Design Build focuses on hiring skilled employees to help ensure quality workmanship. By focusing less on subcontracting, Melton also maintains greater control over scheduling for faster project completion – and greater client satisfaction. Melton has also accumulated awards across the board, including Remodeling Magazine's Big50 Award.
Before deciding on a contractor for your home remodel, make sure their track record for success can be demonstrated. By doing this, you have additional assurance that your project will not get out of control, staying right on schedule.