5 Great Ways to Remodel Your Teenager's Bedroom
Your teen is no longer a kid, but not yet an adult. Your child wants a space that is their own and reflects a unique appearance. To help them feel empowered, you want to give them what they are looking for, without going to extremes. Working together to remodel your teenager's bedroom might seem like a lot of work, but it often brings a stronger, healthier relationship when it is over.
Here are teen bedroom remodel ideas that work with any budget and will make you both happy.
Color & Lighting are Key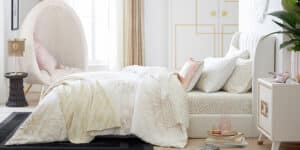 As you remodel your teenager's bedroom, you want to place a lot of emphasis on the color and lighting. Once you know the paint color your teen wants, you will look at swatches and samples to pick the right match. The last thing you want is to have an entire room painted the wrong color.
Lighting helps to make the largest change in any room. You want to create a complete lighting plan. Choose some café lights across the ceiling to add ambiance or install a dimmer switch to alter the mood at any time. Whatever you do, make sure there is proper lighting in the area where your child will be doing homework.
Create an Entryway
Anyone with a teen knows what happens right inside the room. The kids drop their junk wherever they see an open hole. To prevent this pileup of chaos, it makes sense to plan for an entryway. Install wall hooks or a coat tree for them to hang their jackets and bags. Then, place a table or dresser right by the door where they can drop off their important belongs, keys and other miscellaneous junk.
Design a Hangout Area
Set aside some room in the plan to create an area for hanging out. You can repurpose an old couch from the basement or buy a new futon. It's even fun to put a vibrant rug down and add some floor cushions. Your teen wants a space where they can sit with friends and gab. Make sure it is part of your plan.
Add Some Special Touches
Your teen's room must catch the eye. It needs to be unique and different or your child won't be excited. Add some neon signs, paper lanterns or vintage letters – whatever makes your kid shine. Let them be a part of the design process so their special touches get included.
Showcase Hobbies
Your child wants an area where they can marvel at their hobbies and accomplishments. Are they a cheerleader, band member or skater? Whatever makes them happy should be implemented into the design of their room somewhere.
Professional Design Help
You don't have to remodel your teenager's bedroom alone. We have countless years of experience creating teen bedrooms that kids adore. We know how to create a space that makes them happy at a price that you can brag about. Contact us today and we will work with you to create the plan of your tween's dreams.