5 Simple Kitchen Design Ideas with WOW Factor
Simple Kitchen Ideas
The kitchen is often the heart of the home where everyone enjoys meals, conversation, and creates memories.
If you are looking to update your kitchen to give it more of a WOW factor, it's possible that you are in the market for some inspiration.
Here are five simple kitchen design ideas that really bring that stunning WOW factor to your home.
Paint Dated Cabinets
Sometimes, it's a great idea to work with what you already have, even if it seems a little dated and you feel tempted to just rip it out.
Simply painting over and updating existing cabinets is a great way to do this. It preserves the soul of the original kitchen while bringing a fresher and more beautiful look to your home.
Replacing your old countertops with either granite or epoxy counters will add value to the new look without having to create a whole new space from scratch.
Add an Island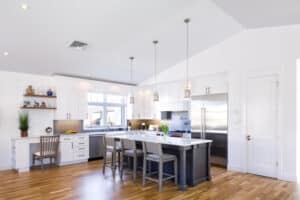 If you don't already have a kitchen island, you're really missing out on all of its potentials!
Islands can function as an additional dining space, dish storage, comfy seating, and even a food preparation area.
Even if you have a somewhat smaller kitchen, dedicating some of the space to an island can make it much easier to really make the most out of the space you have!
Upgrade Appliances
Simply making sure that you upgrade your appliances as a part of your renovation can really help to bring about that WOW factor.
Having old appliances can really stand in the way of a sleek, elegant design for your kitchen, no matter how much effort you put into other design ideas.
Even if it seems like an expensive step at first, it is absolutely worth it and gives you some inspiration for designing the rest of the kitchen around your new appliances.
Open it Up for Guests
It's a common move to open up the kitchen to a dining area for easy flow and access, but there are even more benefits!
When you renovate your kitchen, you'll definitely want to show it off to guests. Since they likely won't be the ones cooking whenever you entertain, simply having the kitchen opened up will make it much easier for them to see the beautiful hard work that you've put in!
Plus, this offers more opportunity to add seating options so that you can really make the most of your new kitchen and serve as many friends and family as you'd like!
Give Attention to Flooring
Lastly, it's really important to remember flooring during your new kitchen adventure, even though it can be easy to remain focused on more obvious needs.
Flooring can really tie the entire room together and change the overall vibe of the room, so putting thought into your flooring is crucial when making it come out exactly as you are hoping.
Plus, great, durable flooring is great for practical needs as well since it will make cleaning up messes related to cooking and dining a much easier process.
Call us today to start planning your bathroom remodel.
Read More Blog Articles