5 Timeless Kitchen Remodel Trends You'll Love
5 Timeless Kitchen Remodel Trends You'll Love
Choosing a design for your kitchen is no easy task. Not only are there a multitude of options to choose from but there are also ever-changing trends to keep up with. It can be difficult to know what will be in style and functional 20 years from now. Fortunately, there is some timeless kitchen remodel trends that are foolproof. Here are five trends that you just can't go wrong with.
White is Right

No matter what trends come and go, a white kitchen never seems to go out of style. This bright and crisp look can liven up the atmosphere and make your space look more expansive. Everything doesn't have to be white to utilize this technique. You can go with white cabinets and walls but still add color elsewhere.

Quartz Countertops

While granite is often a popular choice, quartz takes the cake when it comes to ease of maintenance and durability. Quartz is scratch resistant and far stronger than granite. Additionally, it doesn't have to be sealed every year, like granite does. With quartz, you have many beautiful varieties to choose from, some even look just like granite. You can't go wrong with quartz countertops.
Houzz.com
Save Space with Redesigned Refrigeration

Once upon a time, you had to keep refrigerated goods in a single unit that could be difficult to fit as it took up way too much space. Fortunately, those days are long gone. Refrigeration units of today can be smaller, shorter, and spread across the kitchen. Some people even include refrigeration units underneath the countertops in kitchen islands. This can help you maximize space and increase the functionality of your kitchen.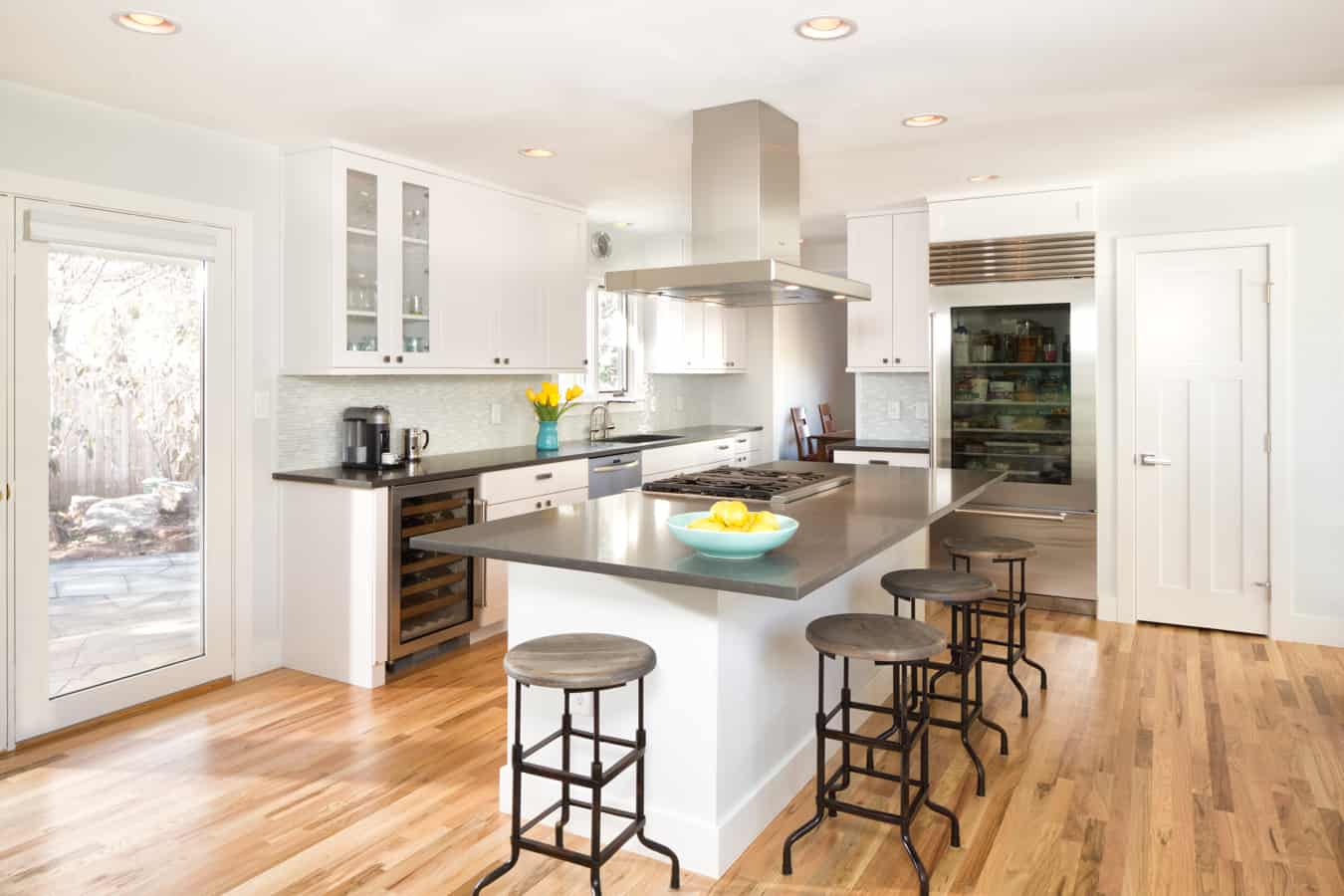 Downsize Your Appliances

When you're considering a kitchen redesign, don't forget about upgrading your appliances. Smaller appliances are still rising in popularity, and there's a good reason for it. Technology has enabled appliances to be made more compact and more efficient. This means that you no longer have to clutter your counters with giant toasters and other large appliances. You can design for smaller, compartmentalized units and place them in functional locations. It'll save you ample kitchen space.
Houzz.com
Accessibility

The concept of aging in place has been around for a few years, and it might seem like a yawn until you get to the point where you really need it. (UGH) Thinking ahead (may not be high on the priority list – but can save you in the long run). It might enable you to stay in your home when you reach retirement age and beyond, and it won't detract from the look or feel of your home now if you do it right. Our Home Care & Repair department specializes in accessibility upgrades, click here to learn more.
There are many ways to improve the look and feel of your kitchen, but these are a few timeless kitchen remodel trends that will be in style for years to come. Whether it's thinking ahead, keeping up with technology, or going for clean color schemes or functional materials, these trends will help you achieve the look and feel you want for your new kitchen. Give us a call if you are considering kitchen remodeling trends and would like to discuss some options for your specific home needs.

Read More Blog Articles