5 Ways to Improve Your Kitchen Storage
One of the top reasons we see people remodel their kitchens is to improve flow. A close second is to create more—and better—storage. Storage and organization can make or break your cooking experience, not to mention just plain drive you crazy if it's not done right.
Here are some ways to improve your kitchen storage and make your time in the kitchen more pleasant.
Think zones. Think about your kitchen in three main zones: prep, cooking and cleaning. The prep area is where you get everything ready for cooking or baking. In this area, you want to store knives, cutting boards, mixing utensils and mixing bowls. Store pots, pans, baking dishes, cooking utensils and spices near the cooking area. And, of course, the cleaning area is where your sink and dishwasher live. Keep cleaning supplies and dishtowels handy.
Double up. If you have the space, consider doubling the size of your island or peninsula so you have back-to-back cabinetry for double the storage space. This also yields additional prep space or an area for the kids to gather for snacks or to do homework.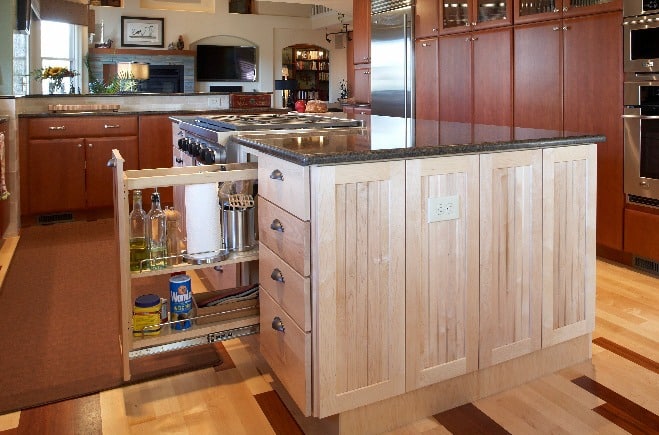 Pull out all the stops. The biggest key to organizing individual drawers is to choose cabinetry with built-in organizers. Pullout drawers make items lost in the back corner a thing of the past. Consider a pullout cabinet to house your trash and recycling. Today's carousel-style organizers make the best of that once useless corner cabinet space. Crockery drawers with moveable pegs keep dishes organized and easy to access.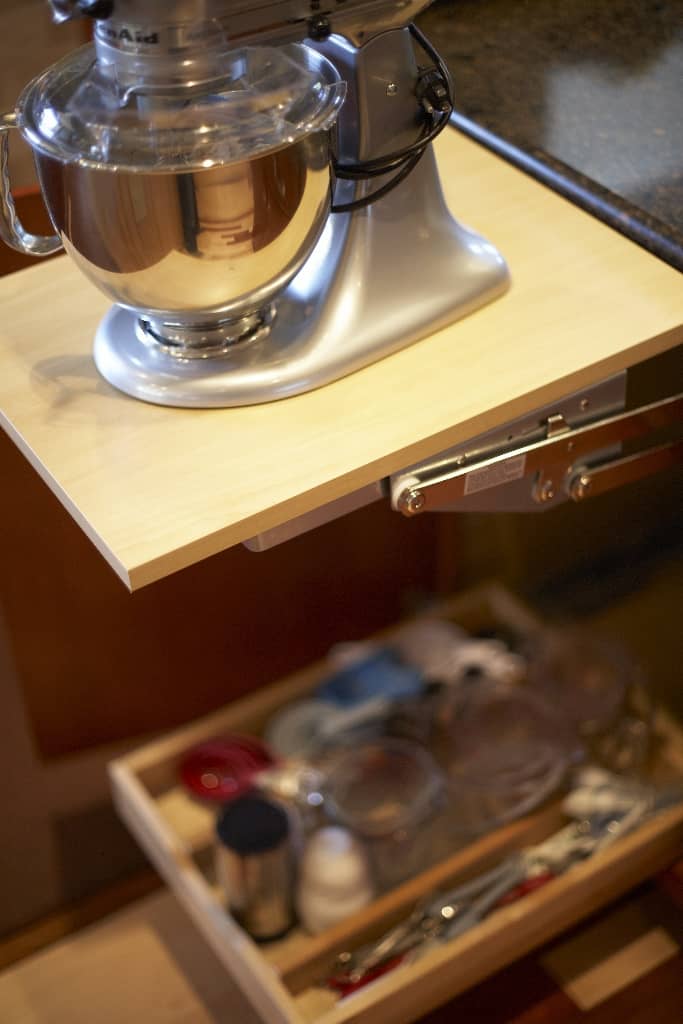 Counter action. Tame oft-used items that get spread about the kitchen counters with trays. Grouping like items—such as olive oil, spices, salt and pepper—on pretty trays makes it easy to transport them to the dining table or another part of the kitchen. It also makes cleanup a breeze by only moving a few items to wipe counters as opposed to several smaller items.

Aim high. Eliminating a soffit in the kitchen will allow you to run you cabinetry all the way to the ceiling offering additional storage space. Use the high cabinets to store the items you only use at the holidays or for other special occasions. The added benefit is that the high cabinetry creates the illusion of a larger kitchen.