Everything You Should Know About Wood Flooring
Considering Wood Flooring?
No one can deny that a wood floor warms a room. It provides stylish looks and a long-lasting finish. Whether you are planning to lay a floor in your new home or you need to replace one that's damaged, there's a lot you should know about wood flooring.
You have numerous species to choose from, plenty of widths and lots of colors available. Let's look at the most common questions related to installing wood flooring.
What does wood flooring cost?
Typically, it will cost between $1.50 to $8 per square foot. The price is mainly affected by the grade, species and thickness you choose.
How does wood flooring hold up?
Along with the cabinets, you can easily remodel the kitchen layout. Move the cabinets, appliances and fixtures to suit you. At the same time that you are doing the cabinets, it's not much more work to swap out a few appliances and adjust the layout.
By doing the entire project at once, you save yourself time in the future.
Upgrade Accessories
There are prefinished solid-wood boards that come complete with a 50-year warranty. As long as you regularly care for it, any solid-wood floor should last for longer than that. If you opt for engineered wood instead, you might still get a 10 to 30-year warranty.
How do you maintain a wood floor?
It's vital that you regularly maintain your wood floor to protect it. Abrasive dirt is the enemy to a wood floor. That's why you must vacuum it often. You should also lay runners and doormats by entries to prevent dirt from becoming an issue.
Where should you install wood flooring?
You can put it anywhere. The only place that wood flooring doesn't work well is anywhere that you have standing water or excessive humidity.
Should you go with unfinished or finished?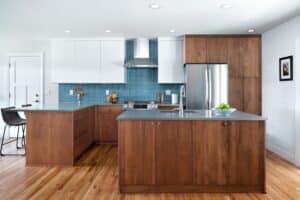 Unfinished hardwood flooring is good to match the color of your existing flooring or to apply a custom stain. It's also a great option in the kitchen with a protective finish applied. This finish penetrates the wood and keeps water from seeping into the boards.
Prefinished flooring comes from the factory sanded and sealed. This allows for easier installation, eliminates odors and reduces VOCs on-site. The floor is ready to walk on immediately and doesn't require as much effort to achieve the finished look you desire.
What species is best?
Obviously, the best floors are those made from hardwoods. Oak flooring, cherry flooring and maple flooring are some of our favorite options. Other popular woods include bamboo, which isn't actually a wood at all. You might also consider mahogany, ash or walnut.
If you want an exotic species, you should prepare to pay extra. This includes mesquite, jarrah or teak.
There's also the option to use reclaimed hardwood flooring. While it might have some signs of age and wear, the cost is kept to a minimum. Many people that renovate an older house don't mind using the reclaimed option as a way to save money and add some original charm.
We Can Help
Don't try to navigate the vast selection of hardwood flooring on your own. Our trained professionals are able to find the flooring that works for your needs, budget and space. Then, our expert installers are prepared to get the job done right the first time. You can save time, money and energy by using our valuable resources. We look forward to helping you.
Read More Blog Articles