7 Outdoor Living Spaces that Rock
7 Outdoor Living Spaces that Rock
Expand your house by constructing a livable outdoor space. Whether you have a tiny balcony or a wrap-around porch with an acre of land, you can convert nearly any space into a new favorite hangout in order to take advantage of the warm, sunny weather and cool evening breezes.
Use the photos below as motivation to transform your outdoor area into something spectacular! You'll be ready to sit back and sip an icy cold refreshment admiring your new space in no time.
Indulge in the outdoors despite blistery weather with the help of a patio fireplace and outdoor heaters. Don't miss a minute of mingling with your guests by placing the grill alongside the seating area. Keeping the furniture and throw rug the same color create a refined, relaxed vibe.
High ceilings open up outdoor spaces even more. A fireplace made of stone compliments a neutral stone tiled floor and wood pillars. Outdoor elements used in a transitional living area blend in well with nature.
The open restaurant-style window works well to bridge the gap between outside and in. Plenty of seating gives guests a choice where to dine and catch up. Recessed lights offer a simple way to light the entire area. Recycled wood floors are pleasing to look at and easy to maintain. A kitchen remodel like this can help you bring your dining experience outside for all to enjoy.
Create an artistic feature to your fence using design build services to frame out an opening that offers a glimpse of the shrubbery. Brighten up the space with a playful color on exterior siding and add a cheerful rug. Then balance out the boldness with a neutral bench and chairs.
The right landscaping can really make a space come alive. Design build services can help craft a perfect outdoor living area that matches your desired lifestyle. A wall hanging herb garden is both practical and arty. An overhead shade keeps everyone cool during the dog days of summer.
Rich wood floor panels laid out in an interesting pattern create a sophisticated patio. Take advantage of a corner with an oversized L-shaped couch to ensure plenty of seating for all. A variety of potted plants help polish the look.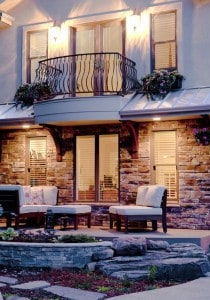 This patio works well with the house because both the exterior walls and the landscaping use the same style and color stone. Furniture paired together with exterior paint helps it blend in more. Using flower boxes on the second floor will draw eyes up to the balcony.
Ready to take your outdoor living space to the next level? Contact us today to discuss how we can help you create the perfect outdoor oasis right outside your door.