7 Reasons We Love Omega Cabinetry
7 Reasons We Love Omega Cabinetry
Melton Design Build uses Omega Cabinetry for most of our remodeling projects. We love the quality and selections available, and we think you'll love Omega for your next remodeling project. If you're thinking about a bath or kitchen remodel, check out Omega cabinets to make your space a special one.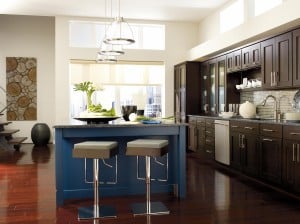 1. Wide Product Offering
Omega offers three lines to choose from: Dynasty, Omega and Full Access. Each line has different features that make it unique resulting in a wide variety of choices. Dynasty offers semi-custom cabinetry, while Omega is fully customizable. Full Access has frameless construction for more storage space and modern design. The ability to combine different construction platforms gives you the power to create unique looks without compromising value.

2. Fully Customizable
Omega offers the capability to build fully custom items based on a special request drawing, so you can get just the right storage and design for your kitchen or bath.

3. Beautiful Finishes
Each line has a wide variety of really beautiful finishes including: porch swing, a weathered-looking gray stain; cranberry, a deep red painted finish; and hundreds more. Hand wiped stains give you increased depth and clarity in the stain color, and allow the natural beauty of the wood show.
4. Custom Paint Program
Their custom paint program allows cabinets to be ANY color, not just ones they offer. You can match your cabinetry to anything you choose—the upholstery fabric on your dining chairs, your favorite dishes, your bathrobe or anything else you choose.

5. Reliable Shipping Times
Standard orders (not custom requests) have fast and reliable shipping times. This ensures your project will not be delayed due to cabinetry not arriving on time. Custom orders can take a bit longer.

6. High Quality
Each of the Omega lines offers high-quality materials and construction. The cabinets have a solid wood construction, dovetail joints on the drawers, soft-close hinges and UV-cured finishes. UV finishes give you lower VOC emissions and more durability. Omega has fully integrated manufacturing, made in the USA. They make most of the wood components in house, which increases the availability of the items and allows better control of quality and manufacturing time.

7. Full Access Line
The introduction of the Full Access line allows a full spectrum of design combinations and possibilities. You can choose to mix-and-match framed cabinetry with full access for a truly custom kitchen remodel design.
For more information about how we can create your dream kitchen with the Omega lines of cabinetry, schedule a consultation today.