9 Fun Basement Remodel Ideas
9 Fun Basement Remodel Ideas
A bonus space, basements are often an overlooked and under utilized area of the home. With careful design considerations for a basement remodel, a humble underground space can go from cold and dark to warm and inviting. Whether you're looking to add some fresh character to your outdated basement or you want to completely remodel this space, there are countless transformation ideas from creating a full gym to office nook to kids play area, there are ways to create comfort and style in this sunken lair of the house.
A basement remodel doesn't require a large or lavish space. A simple basement can be transformed with a glassy multi-colored tile fireplace, hanging flat screen television, cool lime paint and a funky built-in bar. Cozy decorative accents like a soft sectional, large ottoman and fluffy pillows give the space a serene vibe.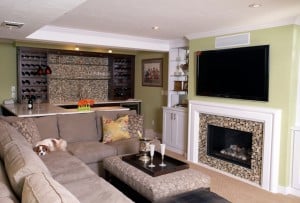 Make use of the basement space by adding coastal elements that will create a sense of comfort and coziness. Raised panels and crown molding plus a fireplace feature, create a basement that is welcoming and warm. Recessed lighting and a framed window add to the charm and airy ambiance.
Nothing makes better use of a dark basement than a private home theater. A basement remodel can include various textures and decorative accents like a small tile platform, a built-in TV screen space and real cinema style floor lighting. Other features like a fireplace and built-in drawers create a viewing room that feels informal but extravagant.
Take a basement from cold and unused to luxurious and approachable with a glass-enclosed gym. Sleek hardwood floors, a custom home theater, full bar and built-in wine cellar make this a multi-purpose space full of rich amenities.
Perfect for family gatherings, this updated basement feels more like a relaxed TV den than an underground room. Entertaining and lounging are easy with light maple hardwood floors, a built-in art nook and window blind treatments. The addition of recessed lighting and a colorful faux paint scheme9 Fun Basement9 Fun Basement Ma create a cheerful and appealing room.
Turn that dungeon basement into a hip and trendy kids room. With built-ins ranging from drawers to shelving nooks, this sophisticated and colorful area offers kids a place to play, create and entertain. Lively decorative touches like a striped rug, white flower pendant chandelier and bold polka dots brighten up any basement dreariness.
A basement doesn't have to be devoted to sports pennants and beer paraphilia. This super luxe basement is part kitchen, part bar, and all fun. With a dishwasher, a tile backsplash and glass cabinet, this space is ideal for homeowners who love to entertain and host parties.
A grown-up basement is an ideal lounge area for games, movies and pool. Classic cottage paneling on the ceiling plus recessed lighting and dark flooring create a modern and alluring basement. A well-crafted staircase opens up the space and makes it feel more sumptuous and sophisticated.
A slightly rugged basement offers the perfect mix of textures and fabrics. From dark beams surrounding an elegant bar to sheepskin pillows and a soft suede chaise and leather lounge chair, this is the ideal spot for lounging, reading or making party cocktails for family and friends.