A Home Remodel Yields Creative Spaces for Outdoor Cooking
With 300+ days of sunshine per year, Colorado is the perfect place for outdoor living. Nothing makes the outdoor living experience as complete as a fully equipped kitchen right in your own backyard. An outdoor kitchen is an extension of your home's living area, and as such it should have the same type of amenities you enjoy when you cook inside. Today's home remodel contractors are designing outdoor kitchens that include, of course, a grill. However, they may also include a sink, refrigerator, a wet bar, warming drawers and sometimes even a pizza oven. Many feature plumbing, lighting and weather-resistant cabinetry and countertops.
Plumbing and lighting can dictate the location of your outdoor kitchen. Keeping it close to the house makes tying into the existing utilities easy. Here are some basic design elements to consider for your outdoor kitchen:
Layout
Like your indoor kitchen, you'll want your outdoor kitchen designed for functionality as well as beauty. Be sure there is plenty of room to move with more than one person in the cooking area. You'll need ample counter space for food prep and serving. When planning your outdoor kitchen, your home remodeler should take into account the local building codes for such a space.
Shelter
Although we love the Colorado sun, avoid having too much of a good thing. Choose a pergola, umbrellas or strategically placed triangular sun shades to offer some shelter from the sun. This will help keep your surfaces and furnishings protected. And it extends your outdoor time even when afternoon showers roll in.
Appliances
For most outdoor kitchens, the go-to appliance is the built-in grill. Built-in grills come in both gas and charcoal options. You can add extra options such as side burners, a rotisserie, a smoker box and more. However, don't forget the other amenities available for your outdoor kitchen such as a wine refrigerator, warming drawers, an ice maker and other popular appliances.
Lighting
Choose outdoor lighting that can be layered. If you're going to be dining al fresco or entertaining after dark, you'll want task lighting in the food prep and cooking areas. However, dining and bar seating will benefit from string lights that create a more intimate setting. Be sure your home remodel contractor hard-wires some lighting. Consider dimmer switches just as you would for your indoor kitchen and dining areas. Don't forget low lighting to highlight pathways between the house, cooking and dining areas.
Materials
Choose materials that are weather resistant and can withstand the heat from the built-in grill. Opt for granite, slate, tile or stone. Great choices for cabinetry include weather-resistant teak or cedar. Remember that cleaning will likely involve hosing the space down, and you want materials that can withstand.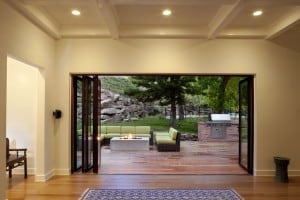 Contact Melton Design Build today to see how we can help you create an outdoor kitchen you'll use year round.