Add Some WOW! Factor to Your Kitchen Remodel
It is no secret the kitchen is rapidly becoming the focal point of the home. This room is used for a variety of activities, highlighting the importance that it must be meticulously designed for both form and function. Provide an attractive setting for your cooking time and design an aesthetically pleasing atmosphere to impress your guests. Follow this guide to see how you can add some WOW! factor in your kitchen remodel.
Color Scheme
The first thing that people will notice about your kitchen is the color. Keep a common theme throughout your kitchen design and supplies. Some main schemes for a kitchen are earthy and modest, or bright and vibrant. For a sophisticated yet earthy touch, choose oak cabinets and granite countertops. An island accompanied by wood-topped stools is also a great addition. An energetic atmosphere requires the incorporation of bright cabinets or walls. A more subtle approach to adding some flare to your kitchen is by using bright colored chairs or decorations, while keeping the walls and cabinets simple.
Lighting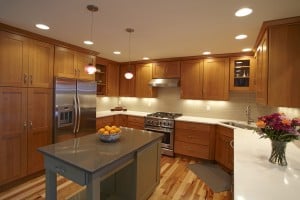 Use decorative light fixtures in your design to add a bit of zing to your kitchen remodel. Incorporate ambient lighting for the room using ceiling lights that span across the kitchen. Dimmable task lighting over the stove, island and table creates a more intimate setting when you and your partner want to enjoy a romantic dinner together. Pendant lights provide a direct cast of light onto each specific area of the room. These pendant lights provide premier lighting over the kitchen island.
Additional Entertainment
As the kitchen becomes an increasingly prevalent space for entertainment, add alternative pieces to kitchen to improve the amusement level of your kitchen. A premier speaker system is a great supplement to your kitchen's entertainment and will attract your guests to the room. See below how ceiling speakers provide excellent sound without disrupting the look of your walls.
Open Space
Allow yourself to host a large crowd of visitors in your kitchen. During your remodel, be sure to create a spacious area that provides enough room for high volumes of people. Leave ample space for your cooking area, while also dedicating a region for your guests to converse. The use of dining rooms has been steadily declining, so use that extra space to turn your kitchen into a center for entertainment.