Basement Remodels
If you have a damaged basement from the recent flood, you can use this opportunity to create a new space you love. A basement in a home is a wealth of extra living space just waiting to be utilized. While you're doing repairs, visualize the many routes you can take when planning a basement remodel. With an expanding family, it's nice to have the space for options for creating the perfect home for you and your family. Here are a few things to consider when planning your finished basement.
Storage.  When you're planning your basement remodel, it's important to remodel in a way that utilizes the area in a way that gives you the most possible space. Built-in storage options like wall shelves and cabinets help maintaining space for activities. The more kids you have the more stuff you acquire. The basement is a great place for keeping all the sports equipment, winter clothes, or holiday decorations out of the way when you don't need them.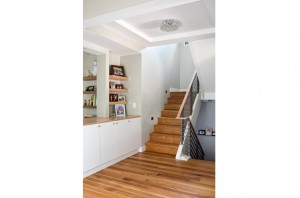 Media Room. Media rooms are a great place for casual social activities for the whole family. Choose furniture that can be rearranged and accommodate a few people or a crowd if you have guests. This space should be designed in a way that is comfortable and versatile to provide an area fit for watching movies, playing board games and video games, or doing craft activities with the kids. And let's not forget the electronics! A large flat screen TV would suit this room nicely, with a sound system and wireless connection for all those mobile devices.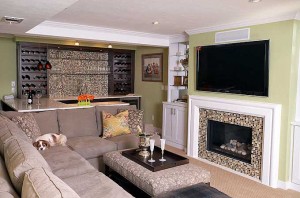 Playrooms. If your kids' toys are overflowing into all areas of the house, having a room to contain the mess is really helpful. Design a space that is kid friendly, with built-in shelving units, lots of floor space and big table top for arts and crafts. Your kids will thank you, and you'll enjoy not stepping on Legos in the hallway.
Guest Room. Guest rooms are essential for families who have frequent guests. Think about who you might have staying with you and what kind of space and amenities they might need. Adding a bathroom can turn the space into a guest suite. Offering guests some extra space can give them some privacy while allowing you to keep the house from feeling crowded.