Beyond the Man Cave: Masculine Spaces Go Mainstream
When it comes to remodeling, the word "masculine" usually conjures up visions of a "man cave" in the basement with a giant TV, a recliner and maybe a pool table. But a "cave" might not be what every guy wants and it certainly doesn't have to be the only direction for remodeling with the man of the house in mind. Masculine style can go mainstream: carry it throughout the home with spaces that are clean, simple and efficient, leaving fussiness behind.
Basement. Starting with the obvious, he probably will want a large flat screen TV with surround sound (and maybe a gaming system). The basement is also the perfect place for heavy exercise equipment, but after that, make room for other interests, like a wine cellar, computer desk with room for 3 monitors, cabinets for a trophy (or beer stein) collection, or a closet fitted for storing golf clubs, photography equipment or fishing and hunting gear.
Bathroom. A roomy shower with multiple shower heads, steam, digital temperature controls and a built-in bench fits the bill after some pick-up basketball or just a long day at the office. Keep surfaces clutter-free with lots of storage room (and charging outlets) for his shaver, beard trimmer and electric toothbrush. A built-in laundry bin helps keep dirty clothes and towels off the floor. (And a flat screen TV is pretty much a safe bet for any room.)
Closet. Customizing a closet means more than just more room to hang suits and shirts. Drawers, hooks, shelves and cubbies will help keep gym clothes, shoes, ties, belts and t-shirts in order.
Kitchen.  What's his specialty? Grilling? Get a professional-grade range with a grill in the rangetop. Baking? You'll want extra counter space to provide plenty of elbow room for rolling and kneading. Don't forget a prep sink, pot-filler faucet, an extra-large sink with a pull-out sprayer, a wine fridge and handy storage for that set of knives he loves so much.
Color. Gray is the perfect backdrop for your new masculine space. Pair it with other neutrals like ivory, cream, taupe or brown, or add a pop of color like navy, orange or red.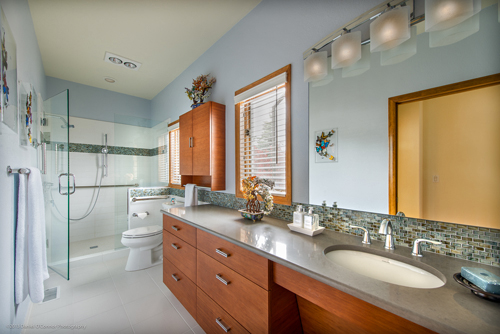 Designing a "masculine space" isn't the same thing to all men. But whether his style preference is "rustic cabin" or  "Mad Men," the bottom line is to ramp up the storage, dial down the fussiness and keep in mind whatever he thinks of as "fun"!