Beautiful Home Office Ideas
Beautiful Home Office Ideas
If you're dreaming of an updated home office, let these great designs inspire you. There's inspiration for every design style, you're sure to find something you love.
Capture The View
Be sure to capitalize on the amazing mountain views we have here. Even if you don't have a sightline to the mountains, orient your desk toward a window anyway. Taking in a little of nature's beauty can inspire your work. Despite having excellent daylight, don't forget a good work light for working in the evening.
Pops of Color
Punch up a neutral palette with pops of a fun, bright color. Accessories are a great way to add color to your workspace without a major commitment. If you want to change colors later, simply replace your accessories.
Incorporate Artwork
A great way to liven up the walls in your home office is to add artwork. Whether you choose fine art or your child's artwork, put it in a nice frame or on a canvas and make it a focal point. Additional artwork in smaller sizes will make the room feel finished.
Black and White
For a sleek, sophisticated look, opt for black and white. Like a vintage photograph, black and white adds a certain classic charm to any design style. Add black and white photographs to add impact to the color scheme.
Classical Corner
Create a corner office using floor-to-ceiling cabinetry. Capture the traditional look with fluted cabinetry accents and mitered trim on the doors. Open shelving and glass-panel doors will keep your corner from feeling cramped.
Kitchen Niche
Carve out a small corner in the kitchen for a desk to keep your work in the hub of the house. A floating desktop keeps the space feeling light and large. Floating shelves keep office supplies and cookbooks handy.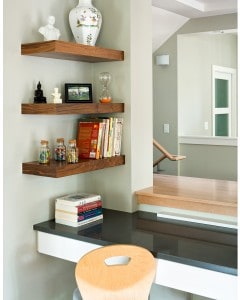 Light Things Up
Under cabinet—or shelf—lighting can help you maximize a windowless space in your home. Consider strip lighting under a floating shelf above your workspace.
Spread Out
If you have the space, dedicate a nice-sized room to your office. This offers ample space for bookshelves and additional seating options. Spread out some of your office necessities, such as the calendar or inspiration board, so you have to walk around the room occasionally.
Room for Two
Create a space for two working adults using a large tabletop supported by filing cabinets. The cabinets can be situated to divide the space and offer ample storage for each person. Be sure the desktop is deep enough to leave space for personal items to make the office feel homey.
Entertain Clients
If you need to see clients in your home office, dedicate a separate desk just for this purpose. You'll never have to worry about tidying up the desk before a meeting. It's a great way to keep your work out of sight if you keep any personal information handy.
Masculine Design
Create an opulent and masculine feel by surrounding yourself with rich wood from floor to ceiling. Patterned wood floors and a coffered ceiling add drama to the room's design. An oversized, ornate desk adds to the hefty feel of the space.