Better Business Bureau 2022 Best in Safety Award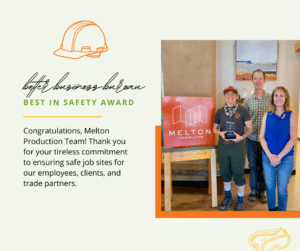 We are thrilled to announce that Melton Design Build has been honored with the 2022 Best in Safety Award by the Better Business Bureau.
At Melton, safety is at the heart of everything we do. It's not just a checkbox; it's a core value that guides our projects from conception to completion. We are proud to stand alongside such a remarkable team that shares in this commitment. We extend our heartfelt gratitude to our exceptional production team, dedicated staff, and trusted trade partners – your hard work and collaboration have been integral to this accomplishment.
Here's to continued teamwork, innovation, and a future built on a foundation of safety. Together, we are designing, building, and living better.