4 Easy Dining Room Design Ideas to Bring Your Family Together
Gather for Dinner
The dining room is an important part of any home. It's where some of the best conversations, memories, and entertaining will happen. Does your dining room do it's best to bring your family together the best way it could?
That said, everyone is going to have different wants and needs when it comes to designing their dining room, and oftentimes they will require some inspiration to help them get started.
Here are 4 easy dining room ideas that will help bring your family together.
Traditional
If you are looking for a more classic and formal look for your dining room, you're definitely not alone!
Having a traditional dining room can be great for formal dinner parties, but it can also be a great eating space for your family every night of the week.
A great way to achieve a traditional look is to go for darker wood options when selecting your furniture. This will bring a regal look to the room and have an ambiance that really points towards elegance and dining.
Plus, having a traditional look can help inspire everyone to feel more elegant themselves!
The design factor will also go a really long way. Choosing arched entryways, beveled shoe and crown molding, and hardwood floors are great options for a dining room redesign.
Modern
If you are looking for something other than traditional looks, then it may be your time to flex more innovative and trendy designs.
There are two ways to really make this happen. The first is installing through seating. There are so many great options for sleek, modern seating that goes beyond standard chairs and can really bring an innovative vibe to the room.
The second important element here is lighting. It's easy to be creative and artistic with your lighting options, and by not simply going for classic chandeliers or other more typical options, you will already be bringing a modern element to the room.
Minimalist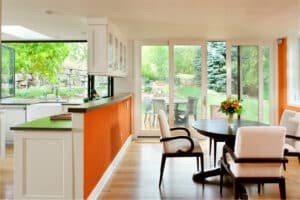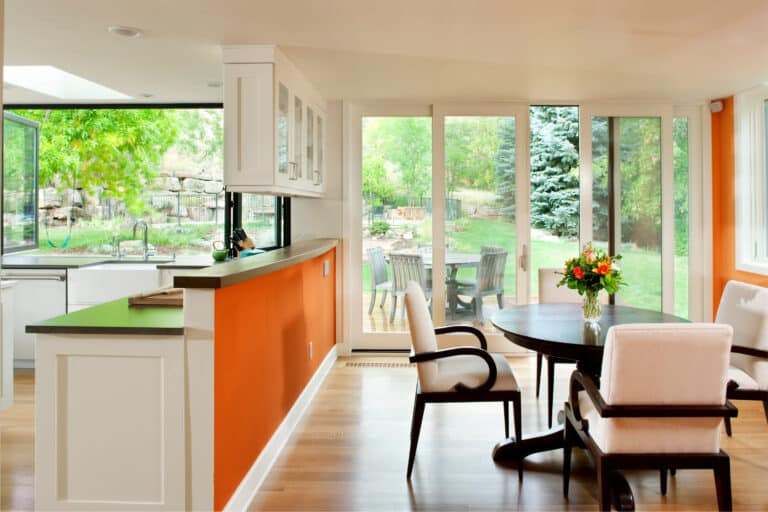 If you are looking for a design that is sleek without detracting from the food and conversations that make up the experiences in a family dining room, you may want to look into more minimalist options.
For rooms like this, you really just want to focus on the simplicity of the furniture and not put too much emphasis on extra décor.
Try to avoid loud options with the designs and keep your renovation simple.
Open
Having an open dining room can be one of the greatest factors for bringing your family and friends together.
An open dining room can either open up into the kitchen, the living room – or both, and it contributes a great deal to the flow of life in your home.
Additionally, it gives you a chance to really show off the other beautiful décor and renovations throughout your home in an extremely welcoming way that doesn't feel forced or strict. After all, life tends to be flexible and flowy, so why shouldn't your dining room? Create a heartfelt meal, invite your family around the table, and enjoy dinner around the table your family was meant to eat together at.
Read More Blog Articles