Choosing the Best Kitchen Floors for Your Home
Choose the Material That Works Best for Your Home
When renovating your kitchen, you might get caught up deciding on appliances or color schemes, but your kitchen floors can have a massive overall effect on the room as a whole. It's important to choose a flooring material that suits your needs and lifestyle while also remaining within your budget and fitting your style. Below, we've listed three of the top flooring materials used in kitchens along with a brief breakdown of each choice to make this decision that much easier for you.
Hardwood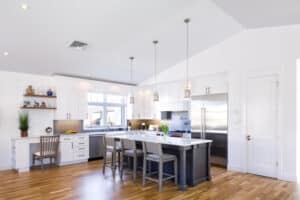 Hardwood floors have the benefit of always being a stylish and timeless choice. This classic look can warm up your kitchen and has great versatility, you're able to choose from a variety of finishes to suit whatever look you've chosen for the heart of the home. They offer durability and longevity, and even better, should you ever choose to redesign the room, you're able to easily sand and refinish them to keep them updated with the room as a whole.
A few things to keep in mind before settling on this versatile choice: hardwood is the most expensive flooring option, so it may not suit every budget. Additionally, it's important to keep an eye on the temperature and humidity in your kitchen with this choice, as moisture can result in warps and gaps in your beautiful flooring. This means that cleaning has to be done with a bit more care, as standing water could damage the wood. For these reasons, some people look to the next option to suit their needs.
Engineered Wood
Engineered wood offers all the elegance and durability of hardwood, but without the same level of cost or care required. These floors are comprised of layers that make them scratch-proof and long-lasting, while also being able to hold strong against moisture and humidity. Engineered wood still is real wood, it's just made up a bit differently so that it battles some of the issues hardwood floors face. These features make engineered wood a great choice for a well-used kitchen, as cleaning can be done more easily and with less care, and excess moisture is not such a concern.
One drawback to this excellent flooring option is that refinishing doesn't offer quite the same versatility as hardwood. Should you decide to sand and refinish, you'll be limited to the amount of times you'll be able to do so.
Laminate
Laminate makes a great flooring choice for the budget-conscious homeowner. Inexpensive, durable, and offered in a variety of colors and finishes, it suits a wide variety of needs and preferences. This material offers the convenience of easy cleaning and low maintenance and protects the flooring underneath from water.
Should you choose laminate flooring, keep in mind that while it is durable, it won't be as durable as hardwood flooring. While it's more water-resistant, it will show more wear and tear over the years that hardwood will. It also doesn't offer the easy updating that some flooring does, so should you decide to change the design of your kitchen, it'll have to be redone entirely.
Whatever you choose, take your time when deciding on your flooring. A good choice can make your day to day life that much simpler and offer you a perfect fit for your lifestyle. Call us today to chat about your kitchen floors.
Read More Blog Articles