Counter Tops and Cabinets – What's In and What's Out
Counter Tops and Cabinets – What's In and What's Out?
When coming up with ideas for countertops and cabinets for your home, it is important to strike the ideal balance between style and functionality. While you will want your entire kitchen to look stunning each time you walk in, you also need an area that makes it easier for you to prepare meals during the week. Here are some of the best options for countertops and cabinets for any home kitchen.
1. Granite Countertops
Even though granite countertops are not exactly new, they are continuing to gain popularity. Many homeowners realize that even though the initial cost of a granite countertop is substantial, they are worth it for the beauty, sturdiness, and longevity. In addition, you can easily use your countertops for any manner of meal preparation – and all it takes to clean them is a simple wipe. If you go with a darker color, minor stains will not be an issue either.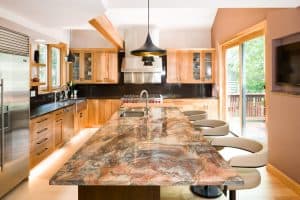 Melton Design Build
2. Butcher Block Countertops 
A classic look that is making a comeback, butcher block countertops are a terrific addition to any home. These are perfect for cutting and chopping vegetables or meat as you prepare meals, but they also have the benefit of looking gorgeous for years to come. And if there is any damage, these types of countertops are very easy to repair. All you will need to do is sand them out and use some mineral oil – and your countertops will look good as new!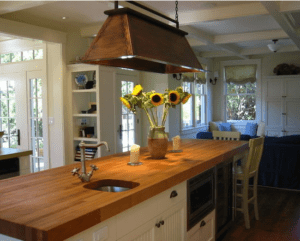 Houzz.com
3. Marble Countertops
A similar option to granite, marble countertops are another wonderful option for homeowners who want both style and functionality. When guests come to your home, they will surely notice your marble countertops and remark about how incredible your kitchen looks. The only downside to marble is how it scratches and stains more than granite. However, if you are using a plate or a cutting board each time you are making dinner, it should not be a problem!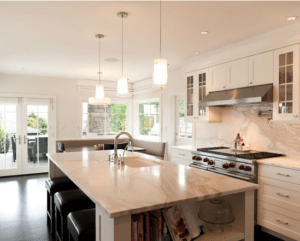 Houzz.com
4. Shaker-Style Cabinets 
Whatever countertops you go with, we believe that shaker-style cabinets are a solid option. These are the most popular types of cabinets in American homes for a reason. Not only are they easy to pair with other style choices, but they are also very sturdy and easy to use.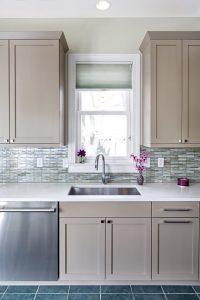 Melton Design Build
4. Bamboo Cabinets
These are less known, but bamboo cabinets are becoming very trendy over the past six to nine months. Many homeowners are going with bamboo cabinets because of the increased style that you get with that option. And if you are pairing these cabinets with a wooden floor, and the butcher block countertops, we believe that you will have an incredibly gorgeous kitchen that gives you a vintage aesthetic coupled with modern functionality.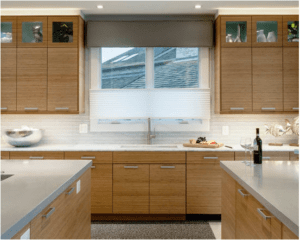 Houzz.com
Each of these options presents something unique, but ultimately you're going to need to find works what's best for you and your personal style. Visting different cabinet showrooms, browsing the internet for photos you like, and or browsing design magazines are a great place to start.
Read More Blog Articles