What You Need to Turn Your Office into Your Second Home
Enjoy Your Work At Home Office
According to PayScale, the average person spends 13 years of their life at work. Whatever statistic you read, it's clear that we spend many hours at the office each day. To make it a more productive and positive environment, you want to consider turning your home office into your second home so you can enjoy your home office.
With some simple steps, you can create a more comfortable, relaxed, yet motivated environment.
Invest in Lighting
When you have access to natural light in the workday, you are less likely to feel sleepy. Artificial light disrupts the natural circadian rhythm, which is why fluorescent lighting should always be avoided.
To feel more productive and awake, you need natural light. Opening the window keeps you from falling asleep, allows the day to pass faster and often gives you a better view. If there isn't access to natural light, you should invest in a sunlight desk lamp instead.
Buy an Ergonomically Correct Chair That's Comfortable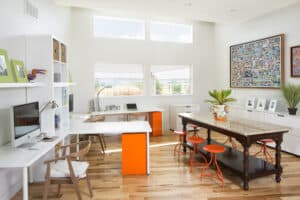 Your physical comfort is vital to productivity as well. You don't want to sit all day in a chair that's too soft or too hard. If you slump over your keyboard for eight hours each day, you are sure to end up with bad posture and injuries.
Instead, invest in a chair that suits you properly. This will not only increase your well-being but also promote more output and clear your mind. It's going to pay for itself. Don't underestimate the power of standing at your desk either. The American Cancer Society says this reduces obesity, heart disease, cancer and diabetes.
Bring in Pieces from Home
If you are going to spend 1/3 of your day in the office, then you should have items that make you feel like you are at home. You want pieces that inspire and make you smile. Bring in some photos, decorative items and mementos you want near you. It's amazing what you can do to a cubicle with the right decoration.
Get Creative with Color
The right color can subdue or stimulate. That's why you have to understand the way colors work to create the environment you desire. If you want to generate creativity, you should choose yellow hues. For more mind-power, blue might be the best option for your surroundings. Green offers calmness while red speaks to your body.
It isn't just the color you need to think about, but also how bold it is. If you choose an intense hue, you receive maximum benefits. If you are hoping for something more soothing or calmed down, then a less intense color might be best.
Create a Second Home Out of Your Office
It's time to take your office space to the next level. Whether you want to create an entirely new workspace for your employees, or you just need to redo your office, we have the tools and equipment you need. We have a team of experts that can help fulfill your design and create a space you love to be at – even more than at home.
Read More Blog Articles