Upgrade Your Home's Exterior
It's never a bad time to rev up your home's curb appeal. Let the beautiful fall colors compliment your home's exterior during the final season before the Colorado snow sticks. Here are a few things to consider while planning your exterior upgrade and preparing for the cold season.
Outdoor Lighting. Not only does this make your home appear warm and inviting, it also provides safety and security to your home. Because the nights are getting darker quicker, it's nice to have light to illuminate your walk inside or to provide a welcoming glow as you're returning from your evening jog.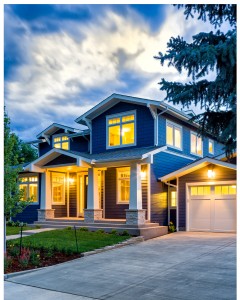 Roofing. Roofing is a huge investment in your home. Your roof is crucial to the safety and value to your home and serves as the overall barrier between your family and the natural elements. The weight of snow can be a real endurance test for your roof. There are a few materials better suited for the threats of the winter season. Asphalt shingles are a good affordable option, insulating your home from the cold temperatures and durable enough for the heavy snow. Tile roofing and slate roofs are also a nice durable option, but being heavy themselves, they require a little additional reinforcement.
Siding, Shudders, and Trim. Insulated siding is a must for homes in order to reduce energy consumption, increase the insulation value system, and improve the stability and appearance of your home's exterior. Insulated siding is the best option for maintaining energy efficiency and staying up to date with industry-leading insulation technology. By upgrading your siding, it provides the exterior with a polished look that will demand attention. Use shudders and trim to highlight the exterior with accent colors that match the color palette of your siding. Shudders come in many different durable materials such as wood, vinyl, aluminum, or fiberglass to match your design style.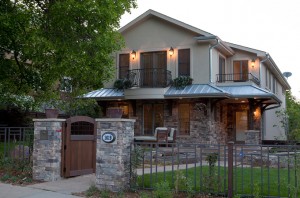 Replace Old Hardware. House numbers, locksets, and light fixtures all add to the design style of your home. If they don't match your exterior's aesthetic, are out of date, or faded, it may be time for an upgrade.
Doors and Windows. During the winter season, most of your home's heat will escape through poorly sealed doors and windows. Sometimes simply caulking around your windows and doors will greatly benefit your home energy but if they are leaky and drafty, it may be time for an update. Double paned windows are a great option and provide an air layer of insulation to maintain the heat in your home. Storm doors and windows can greatly improve your home's energy efficiency. They protect the main entry door from the elements, provide an extra pocket of insulation, can increase airflow and natural light, and provide an extra layer of security to your home.
Make and Entrance. Often times, your entryway is the first thing people will see when looking at your home. A nicely designed entry way signals an equally attractive interior. Make it eye popping and alluring. Having big stylistic address numbers or a bold color for your front door can add pizzazz and set you apart in your neighborhood. The entryway is the focal point of  your curb appeal.