How to Choose the Best Kitchen Appliances
The Best Selections in 2019
For whatever use your kitchen holds for you, whether that be cooking, entertaining, or family gatherings, the appliances can be one of the most exciting parts of styling this important room in your house. Cabinets and countertops offer a variety of exciting choices, but appliances are where you can really make your kitchen show your personality and offer a high degree of functionality.
Things to Consider
The first thing to decide when you're considering how to choose the best kitchen appliances is what do you use your kitchen mostly for? Are you cooking a lot of meals for a large number of people? Or are you hoping to design a room that's comfortable and functional, a safe place in the house for everyone to relax? Use websites like Pinterest or Houzz for inspiration. Once you have the answers to these basic questions, it's time to think about brands, style, material, and your budget.
Many home designers recommend staying away from the gimmicks in home appliances and sticking to well-established brands. This is particularly true for appliances that will be used regularly and hopefully over a long period of time.  Maytag and Wolf are among the least serviced brands for kitchen appliances, marking them as one of the most reliable of the major brands.
Say you're choosing your refrigerator, for example. Once you've decided on the brand, it's time to focus on the style that best suits your needs. For the fridge, that means deciding if you want a top-mounted freezer, a bottom freezer, or French doors (meaning the freezer is on one side and the fridge the other).
The freezer on the bottom makes the main area of the fridge easier to look through, but having the column doors makes finding frozen items easier. You'll want to also consider your space in your kitchen. If you have a tight space in front of the fridge, one with French doors will block less traffic than one with a pull-out freezer.
Create a Wishlist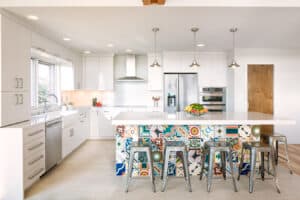 It's always a good idea to make up a wishlist as you consider appliances for your dream kitchen. If you love hosting gatherings, a warming drawer, a sturdy ice maker, and a larger oven would be perfect choices for your lifestyle. If you have a busy family life, look into ovens with speed cooking options to save time and energy. Once you have your list of appliances that you're looking for, it's time to think styles and finishes.
Stainless Steel
Most modern kitchens have stainless steel appliances. This choice is popular for its durability, sleek aesthetic value, and easy cleaning. Recently, however, the panel option has taken over kitchens, showing a clean, uniform finish for the kitchen.
Panel-ready refrigerators and dishwashers make your kitchen look coordinated and customized. If this is something you're interested in, decide early on in the process, as not all appliances will offer this feature. This type of finish can streamline a small kitchen, making it feel larger and more spacious.
Budget
Your budget is a big part of your appliance decision-making process. When deciding on a budget, keep in mind that the retail market often offers deep discounts during seasonal sales, promotions, or major holidays. If you aren't working around a strict timeline, consider buying during certain times of the year to ensure you get the best bang for your buck.
Conclusion
Whether you are an amateur cook or a top chef, a lone wolf or a major entertainer, your appliances can not only reflect that but also add to your lifestyle and convenience. Give us a call or use our contact form if you're looking for more personalized assistance in choosing the best kitchen appliances for you.
Read More Blog Articles