Is It Cheaper to Remodel or Build a New House?
Talking Finances
If you are contemplating whether to start building a custom home build, you may want to keep the financial aspect of the project in mind. Many residential remodels can cost as much as creating a new home from the ground up. While it is daunting to learn how to start planning a custom home build, it is the more financially responsible action to take for many homeowners. Below is a guide on when to renovate an existing property and when to build a new house.
What is the Value of Your Home
If you own a home that is a basic structure that looks like every other house in the city, a new build could be appealing. While you will have to learn how to start planning a custom home build, it would allow you to craft your dream house.
Homeowners who live in a space that has historic charm and high-quality craftsmanship should consider remodeling. These homes have value, both in how you feel about the property and its price on the market.
How Much Work Does Your Property Need?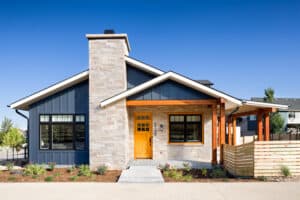 The other side of the equation is how much work your home needs. If you are planning significant structural renovations, extensive plumbing or electrical work, or upgrading a decades-old HVAC system, the cost of such a remodel may equal or exceed building from scratch.
In contrast, modest remodeling is financially prudent. Upgrading the countertops and cabinets in your kitchen, going through a mid-tier bathroom upgrade or tearing down a wall to create an open floor plan are affordable projects that will increase the value of your home.
Consider Zoning Laws
Many homeowners forget about local zoning laws until it is too late. If you are planning extensive remodels to your home, such as building an addition, you may have to get past your local zoning board before you can start construction on the project.
Do You Care About Energy Efficiency?
The energy efficiency of a home is both a financial and moral issue for many homeowners. An energy-efficient home saves you money on your electrical and gas bills each month while ensuring you are lowering the carbon footprint of your property.
Existing homes that are decades-old can only go through so many energy efficiency improvements. Replacing doors and windows will help, but not to the extent of new construction.
Assess Your Long-Term Plans
Are you planning to own your home for the long-term and then sell it? In such an instance, tearing down and rebuilding an older house is the most financially prudent move to make.
Read up on how to start planning a custom home build, as a new home will give you a higher quality of life for the next ten to twenty years. When it is time to sell, a house with foundations, fixtures, and appliances that are ten to fifteen years old will sell for a lot more money than one that is 30-40 years old.
Deciding between remodeling your existing home or learning how to start planning a custom home build is a tough conundrum. Every homeowner must assess the state of their home, how many changes they want to make, how long they want to live in the house, and how much money they are willing to spend. Then you can come to an informed decision about whether to renovate or rebuild.
Call us today to talk about building your dream home in Boulder County.
Read More Blog Articles