Why a Bathroom Remodel Can Be Life Changing
Create a Life-Changing Bathroom
You head to the bathroom a few times each day, but most people never look around and give it much thought. This part of your home has a purpose and is practical, but is it everything you hoped it would be? A quick bathroom remodel might just change the outlook you have on life. A high-end bathroom remodel could be life-changing.
Whether you need a place to get away from the world, or you want to create a great space for your guests, remodeling your bathroom is a great place to accomplish your goals. Here are a few reasons to consider tackling this home project.
Create More Storage
What would your life be like if you had more space in your bathroom? Over the years, countless space-saving and storage innovations have been created. These allow you to create a bigger space, no matter how small your bathroom is.
Whether you have walls knocked down or you simply want to add a closet, there are ways to gain more sanity. You can install a corner sink, float the vanity or install a counter above the toilet. It's also possible to add some space-saving ideas that don't require any major construction or remodeling. Make sure you use a professional to help you get every inch out of the space.
Conserve Water and Benefit the Environement
In the process of remodeling a bathroom, you can easily show your love for Earth. Your shower and toilet use lots of water each day. To conserve our natural resources, consider swapping out some fixtures for water-saving options.
Installing a low-flow showerhead can reduce your consumption by 2.5 gallons per minute. Each flush with an ultra-low-flow toilet can also save you another 2 gallons. This energy-efficient performance will help you to feel good about what you are doing and save you money on your utility bills as well.
Create More Luxury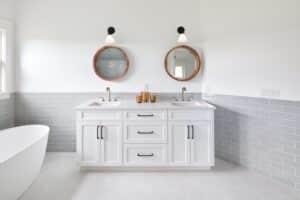 You work hard and deserve a quiet sanctuary to escape into. When you remodel your bathroom, you get to install some luxury fixtures and amenities. With every home upgrade, you have the chance to add more enjoyable, functional and attractive qualities.
Don't forget to take part in the newest innovations available. You can find the latest equipment with lighting, shower cabinets, toilets and sinks. You might even consider installing a new Jacuzzi tub for relaxing in after a day in the office.
The possibilities available to you are endless. Whether you want to simply add a warming toilet seat for the cold, winter days or you are looking to gut the bathroom and redo it completely, we can help you.
Our Bathroom Experts are Ready
We have a team of bathroom experts that can install the smallest fixture or create an entirely new space for you with an addition. If you dream of creating more storage space, making the room more energy efficient or want to create a getaway, we have the tools and equipment you need.
Upgrade your bathroom today to accomplish your goals and transform your life.
Read More Blog Articles