On Trend: Monochromatic Palettes in the Kitchen
On Trend: Monochromatic Palettes in the Kitchen
Have you been to the paint section of a home improvement store lately? The sheer amount of choices is enough to drive anyone over the edge. Picking a color scheme is hard work! There's something to be said about the simplicity of a monochromatic color palette. Not only does it keep things stress-free, but it also creates an effortlessly chic appeal.
This gray & steel combination is a perfect match for a modern, streamlined kitchen. Note the simplicity of eliminating cabinet pulls.
For a light and airy touch, consider using beige tones. Varying shades keep it visually appealing.
Nature plays a big element in this beautiful kitchen with wood taking center stage. Different stains add interest.
White on white keeps this space elegant and classic. White marble countertops and painted wood pair well together.
Match stainless steel appliances to gray painted cabinets. Add in a gray granite countertop and a collage of mosaic tiles in the same hue to pull it all together.
Show off gorgeous timber cabinetry by using the same stain on the floor. Finish the look by matching the same colors in a granite countertop.
Who says black and white is boring? Matching patterns stand out in this monochromatic kitchen.
Brown hues create a warm and welcoming space.
For a pristine clean feel, go white from head to toe. A kitchen remodeler and design build service can help you create this oversized island.
Combine solid colors and patterns in the same color to add appeal. This kitchen sticks with a monochrome feel all the way from the cabinet pulls to the stainless steel hood.
Deep chocolate hues make this kitchen a knockout. The mosaic-tiled background adds just enough tone variation to keep it interesting.
Open floor plans are great for monochromatic kitchens. White countertops and cabinets keep it looking fresh and clean.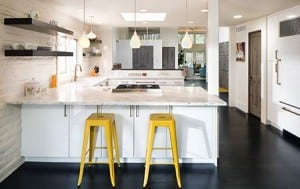 Here the texture of the painted brick adds interest. And it pairs wells with the swirl of the marble countertop.