Pop Top Addition Master Suite
Pop Top Addition Master Suite
Many Boulder residents love their home's location, but not necessarily their home. Oftentimes, we see homeowners who need more space but can't or don't want to sacrifice the yard space they have. A great way to meet all of your home addition needs in this situation is to pop the top! Building up offers many options for use, but what we see most often is the addition of a master suite. This is a great opportunity to create a sanctuary for escaping the day's stresses.
The master suite concept really took hold in the early 1980s as we saw "McMansion" homes cropping up in suburbs around the country. Although the McMansion-era has come and gone, the master suite remains a high priority for homeowners. Check out these inspiring ways to make your home addition a master sweet!
A traditional dormered pop-top addition offers the perfect centerpiece on which to center your bed. A large window keeps the space bright and airy.
Incorporate specialty windows in your home addition to create a unique master bath experience.
Capture the best views from the comfort of your bed with floor-to-ceiling windows.
Make a large space feel cozy and intimate with soft, warm colors such as blues and browns.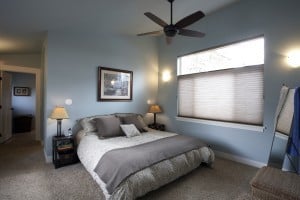 Maximize master bath storage space with floor-to-ceiling cabinetry where possible. An oversized mirror makes a smaller bath feel large.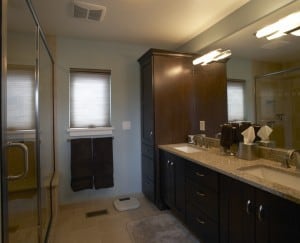 In your pop-top home addition, create a rustic look with exposed beams and a wood slat ceiling.
Instead of creating a challenge, multiple rooflines can create naturally divided spaces for amenities such as an office or den off the master bedroom.
Consider a bold move by having a completely open layout for the master suite. A tiled wet area houses the shower while a freestanding tub is the statement piece of the room.
High ceilings in a second-floor home addition offer the opportunity to create a regal space with extra-large crown molding and a chandelier.
For more information on master bathroom projects, download our free bathroom remodeling guide.