Most Popular Kitchen Cabinet Features
Cabinets are essential to your kitchen design and with today's technology and design build innovations, the options are numerous. It's important to know what's available to you in order to ensure that you're getting the best cabinets to fit your needs. Check out a few of the most popular kitchen cabinet features available today. 
Customized drawers. If you have an idea about how your kitchen drawer may be designed better to fit your needs, let it be heard! You can have pullout doors attached to shelves for cookware, retractable shelves for cooking, cabinets for trash and recycle bins, or cabinets with racks for dry and canned goods. Throughout the design build process at Melton, our clients and design team work closely to assure design goals are met.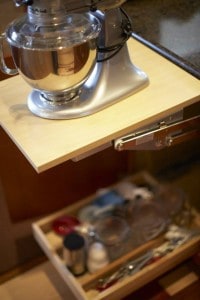 Cabinet Storage. With today's innovations with design build companies and the ability to customize, kitchen cabinet features are plentiful! Pull out trays and narrow spaces utilized for cookie sheets or pots and pans rack in cabinet drawers are making their way into every household.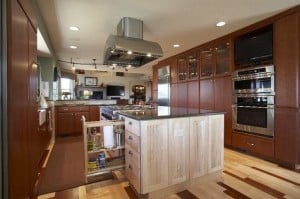 Built-in Appliances. Cabinet manufactures have provided a solution for those of you who want to hide your kitchen appliances and have a more consistent kitchen design aesthetic. Cabinet covers allow for you appliances to blend in with the rest of the cabinetry of the kitchen.
Open Storage. Open cabinets, shelves, and drawers are a great way to mix it up your kitchen design. These simple wood shelves with the white modern cabinetry give this kitchen a transitional design style.
Pocket Office. Pocket offices are gaining popularity in contemporary kitchen designs. These act as a hub for home management activities like paying bills, coordinating family activities, and keeping the family organized. Many families have their own ways of staying organized. The design build process can help assure that your space fits your space and your family's needs.
Above-the-range. Above-the-range storage in your kitchen provides you with an easily accessible space to put frequently used cooking supplies like olive oil, salt and pepper and other spices.