Pull Up a Seat: Kitchen Islands
Pull Up a Seat: Kitchen Islands
Add storage, seating and a greater work surface with a kitchen island. It can be both functional and fun. Islands don't need to be strictly practical and are great if you have the space. Ranging from small to oversized, wood to stone or concrete, islands can be created to match existing home décor or to stand out from the crowd. They can even be on wheels for those non-committal types!
An island can be the perfect addition to a kitchen remodel and can hide a dishwasher, be used for extra storage or contain an additional sink. Use these striking kitchen island images to enhance your food prep workspace.
The attention is in the details with this creative kitchen island that backs into seating for a kitchen table. Booths are a comfortable and family-friendly addition to a home. They are also easy to clean! Keep consistent with existing kitchen elements—marble, wood and gray—for a streamlined look.
Did you know that some islands come with built-in extensions and are all together mobile? Pull it out for additional workspace or seating as needed. Cheer up an otherwise monochrome kitchen with a burst of lime. Forgo traditional lights for two modern and hip pendants.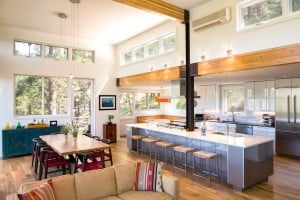 Modern houses call for modern islands. A kitchen remodel can give your long and open space an elongated island where one side can be used for prep and the other can be used for eating. Match bar stools with current room materials, such as wood and metal, to make it blend in perfectly.
Islands need not be limited to four sides. With a kitchen remodel, you can create a corner island that also doubles as seating. Corner booths provide ample room. Offering chairs is a nice option as well. Matching cabinet trim and design will help your island mix in nicely.
This island is artistic in nature. The elevated island eating area compliments the lower spaces used for cooking, prep and storage. Complete the modern vibe with unique bar stools. Hang glass pendant lights to brighten up your space while keeping it in style with your design.
Dark, rich wood hues create a feeling of warmth. A stone backsplash keeps in line with the earth elements. Carve out lower island space to serve as a cookbook shelf within arm's reach. Who said countertops had to be in stone? Wood makes a great surface and can double as a cutting board!
Want to spice up your kitchen by adding an island? Contact us today to discuss the options for your home.