Create a Luxurious Spa during Your Bathroom Remodeling Process
As you look to increase the tranquility of your home, it is important to consider the areas in which you spend the most time. Your bathroom is one of the key parts of enhancing relaxation in your home. Consider a bathroom remodeling project with the amenities you desire, and turn it into the spa-like area that improves enjoyment of this peaceful room. Incorporating a main floor master bedroom and bath allows convenient access to your living space. Check out Melton Design Build's website for additional tips on bathroom remodeling.
Tile Style
During your bathroom remodeling project, create the proper spa-like feel with the use of tile to cover your floor and walls. The tile you use sets the mood for your bathroom. Darker colors provide a relaxing feel, while brighter colored tile will bring about a more exuberant mood. Floor-to-ceiling tile is great for the wet area of your bathroom.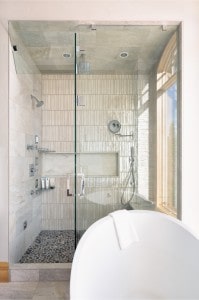 Melton Design Build Bathroom Remodel

Shower/Steam Room
The shower is a key factor for turning your bathroom into a luxurious spa. Incorporate a sitting area in your shower to get off your feet after a long day. If space permits, a steam room is another great asset to your spa-like bathroom to enhance relaxation. Multiple showerheads allows for maximum water contact. Take a look to see additional ideas for creating a spa-like bathroom!
ART Design Build
Glass with Class
During your bathroom remodeling project, implement large windows and mirrors with a glitzy touch. Avoid shadows on your face with side lights on your mirrors, and give a sophisticated feel by lining the mirrors with intricate borders. Big windows incorporate organic lighting that creates a natural feel to your spa-bathroom. Accompany those windows with curtains to provide a relief from natural light and offer privacy when desired.
Lighting
Proper lighting is a necessity when remodeling your bathroom. Use dimmers to give you the ability to relax and enjoy the tranquility of your spa bathroom, while task lighting over your sink is perfect when getting ready for a night out. Candles by the bathtub produce an intimate area to maximize relaxation. Add an efficient and natural touch to your spa with a sky light over the shower.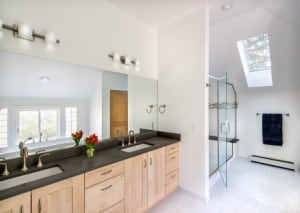 Melton Design Build Bathroom Remodel
Additional Relaxation
To further enhance the relaxation of your bathroom, add some extra touches to the space. A sitting area will allow you a place of respite in a peaceful setting. An incense station allows you to bring about a soothing aroma to your tranquility room. A large tub also brings about a serene feel for ultimate relaxation. Use modest coloring during your bathroom remodeling process to offer a calming mood. Check out this great expanded list of ideas to help make your perfect spa-like bathroom!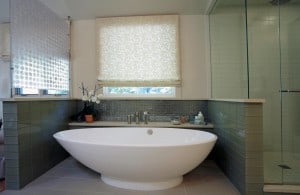 Melton Design Build Bathroom Remodel
See why Melton Design Build is ahead of the rest when it comes to bathroom remodeling, and visit our website with more tips and tools for your home remodel process.