Spa-Like Bathroom Remodel Inspiration
Spa-like Bathroom Remodel Inspiration
Transform your bathroom into a blissful oasis. These heavenly spaces will put the pamper back into your primping. A bathroom remodel is a great time to indulge in a new, decadent tub. A well thought-out bathroom can make all the difference in the world and bring a little luxury into everyday routine tasks. Plus there's nothing better than soaking in a steaming hot tub after a long day at the office. Baths are the ultimate way to distress and unwind.
This bathroom captures a lot of texture from the wood ceiling to the rough stonewalls to the smooth tiles. The tub falls into the center without being the center of attention. Create extra space around the bathtub to rest towels, candles and a glass of wine while you soak.
Sunken tubs can give the appearance of higher ceilings. Tiles with similar patterns, but in different colors, compliment each other. A shaggy floor mat with a soft fabric keeps feet happy and dry.
A tub sourced from water pouring out of the ceiling is mesmerizing to watch fill up. Ambient lights inside the bath and candles placed in wall niches soften the space. Using two different materials on the floor, stone and wood, help to frame out the mainstay of the room.
Soak up the sun while soaking in the bathtub with this floor to ceiling window wall. No one would feel cramped in this oversized tub. It's clean-line design pairs well with the rest of the room's aesthetic.
Plan a bathroom remodel that allows you to immerse yourself inside an infinity bathtub. Multiple lights, including a fixture meant to mimic a chandelier directly above the tub, gently brighten up the room. And the glass open-air shelving doesn't close off the view.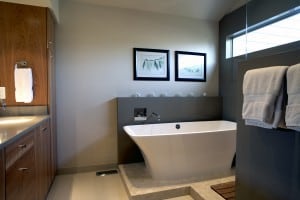 Minimalists will enjoy a long soak in this sleek, deep bathtub. Having the handle and faucet come out of the wall keeps this design chic and unassuming. A sunken luxury teak bathmat saves it (and you) from slipping around the wet floor.
Bathe in private despite being in front of a glass wall with greenery that shields noisy neighbors' eyes. Bonus: enjoy some added vitamin D with your bath on sunny days! Floating sinks and cabinets keep this modern bathroom elegant. Line up a row of identical bathmats instead of purchasing one large mat to make it unique.
Contact us today to discuss transforming your bathroom.