Spring Cleaning: Organizing For The New Season
Spring Cleaning: Organizing For The New Season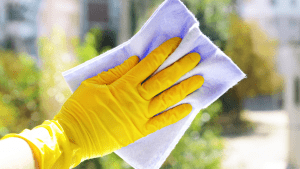 You may have spent more time than you wanted to indoors this winter season and perhaps you have finally come to a point where you would like to change things up a little bit and make your home more organized this spring. With a few spring-cleaning and home organization tips, you will be able to love your space again and feel relaxed as you walk around your new, freshly organized home.
Get Your Tools Ready
There's nothing worse than getting yourself prepared for a spring cleaning and organization day only to be halted because you don't have the right tools with you. It's important to have the cleaning and organizing basics ready and visible in order to set out on the path to spring-cleaning and organizing success. Some basic tools you'll need are: all-purpose cleaners, sponges, rubber gloves, a toothbrush, a scrub brush, a squeegee, rags, a water bucket, labels, garbage bags and storage boxes.
Seasonal Changes
The temperature has changed and you do not need your winter coats and boots in the hallway or closet anymore. In order to make more room for spring and summer items, move all of your winter clothing away into the garage or a storage closet because you won't need them again until next year. This rule can apply to all seasonal items in the home, maybe you have a few boot trays, shovels or outdoor winter items that can be stored away until next year. When it comes to your clothing closet, you could also put your heavy sweaters, socks, and winter clothing into a storage box until the next year.
Decluttering
Decluttering is always the hardest thing to do when it comes to keeping a home organized. Spring is a good time to go through your closets and throw out or donate what you don't need or haven't used over the past year.
If you're having a hard time throwing things away or you own a lot of useful items, perhaps concealing the clutter is your best choice.
In order to have a home that looks clean and organized, shelving systems, drawers and units with doors can be extremely beneficial. If you have an open bookcase or shelving unit with several different items in it, try concealing the items with a roller shade that complements your room.
Is it Time to Renovate?
It might be time to finally upgrade a room or two with a small renovation in order to make the best use of space in your home. Renovations can give you a fresh perspective and add an inviting atmosphere to any home. Have you always thought about remodeling that old kitchen in order to make it more functional and better for organizing your items? Maybe you need to get rid of that old bathroom vanity and update it to a modern piece full of storage room. There are many things you can upgrade or renovate in your existing home that could help you get that clean and organized look that you crave.