Stay in Your Home Long Term with Universal Design
Stay in Your Home Long Term with Universal Design
There are many reasons homeowners want to keep their residences for as long as possible—perhaps, their friends or grandkids live nearby, they enjoy their home's features or the love their community and neighbors. And many homeowners have grown accustomed to their area and have found nearby support service providers (hairstylists, dentists, mechanics) that offer great deals and solid work.
As individuals age, many decide they no longer want the fret and stress of moving residences. They don't want to handle the costs or inconvenience of being uprooted from their homes.
While many aging adults are forced to live in a nursing home facility or with caregivers, those who are healthy and equipped for life in their own homes often have greater independence and happiness. Many design items can be added, removed or put in place that will make it feasible to live safely and comfortably within the same residence for years to come. Design build services can be incorporated to make a home a haven for the foreseeable future.
If you're looking to design a home or add modifications to a current residence with aging-in-place considerations that will make it easier to practically and logistically live into the senior years, these ideas will help make it a reality:
As adults age, they struggle with mobility and accessibility and often have issues with knees, hips and joints. It's important to have an open standing shower with no ledges to maneuver around or climb over. A wide-open doorway with swinging doors, non-slip floors made of tile, grab bars and removable showerheads offer luxury and comfort for older adults. A universal bathroom design with an open shower can also accommodate a wheelchair.
An oven that is conveniently tucked into a space, which makes it accessible for all ages and abilities, is both practical and purposeful. With a door that swings from the side like a refrigerator, this built-in is easier to open and requires less forceful tugging than a traditional oven. Outfitting a kitchen with appliances that don't require bending or straining helps create a cozy and comfortable kitchen for everyone.
Sign up for our free monthly e-newsletter to get the latest in design ideas and tips for your home!
A kitchen island gets a genius upgrade with this microwave stationed at the perfect height for adults who have problems with their back or knees. Placing the microwave in the kitchen island also frees up valuable counter space making it easier to clean and prepare food without interference.
As many adults age, they require a walker or wheelchair to sustain their mobility. Design build services can offer a kitchen with a lowered countertop and built-in nook space to supply the right amount of room for a wheelchair. Cooking is more convenient and easier with a lowered cooktop.
Retaining the ability to bathe without assistance can help keep adults living free of the help of caregivers and allow them to have the freedom of independence. A bathroom with a safe design allows adults to avoid the fractures and broken bones that befall many aging seniors. A beautiful bathroom with stained travertine, LED lighting, folding bench seat, along with a removable shower head, long grab bar and built in shelf for soaps and shampoos, creates a shower that is appropriate and aesthetically enticing for all ages.
A Zen bathroom space is not only a retreat from the stress of daily living but is supremely relaxing and rejuvenating. This contemporary shower offers a large open walk-in with showerheads from a variety of angles as well as built-in tile alcoves ideal for bathing and body products. Nozzles at a variety of levels make the shower more convenient for those of all sizes and capabilities.
Imagine a kitchen where all the storage is efficient, every appliance is easy to operate, and every dish is easy to retrieve. This dream can become a reality wherein a sleek cabinet design hides dishware in a pullout drawer. This elegant design eliminates the necessity for reaching overhead or struggling to pull plates off of high spaces. Herbs and oils are also conveniently contained in a slider cabinet, which is organized and reachable.
A spacious walk-in shower with a swinging glass door and easily detachable shower nozzles keeps a bathroom free from clutter and cumbersomely complicated design. Drawers are hip high and the toilet is free from doors and other obstructions. Easy to navigate in and out, the bathroom space is perfect for youngsters and seniors.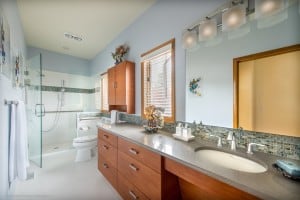 With an open lawn and easy entryway, this updated home provides sufficient curb appeal while offering a space that is simple to navigate. A crisply manicured lawn and large yard allow for areas of easy movement and breezy tranquility.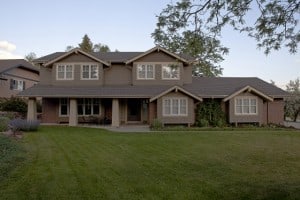 Combining function and beauty, this powder room space is ideal for those in need of an open layout. Lowered sinks are designed for those who hunched or hurt and a wide open shower design, with tub feature, keeps the space meeting the needs of those advancing in years.