Streamline Your Kitchen Space
Kitchen Contractor
Adventures in Kitchen Design: Creating a More Streamlined Space
Whether your kitchen is large or little, there are a plethora of design options, which are strategic space savers and allow for an enhanced culinary experience. From tackling the trials of tool storage to shrouding appliances in secret spots, there are unique layout and remodel ideas that infuse a kitchen with greater function and flow.
As the kitchen often serves as a magnet for family and friends, it's important that the kitchen have key design elements, which are practical and also aesthetically appealing. Taking a kitchen from chaotic and cluttered to streamlined and simplified is easy with the right design team and kitchen contractor.
If you've been yearning for a kitchen that is more stylized, organized and efficient, these are a few superior ideas for creating an idyllic space perfect for any aspiring chef.
A magnetic knife rack clears the countertops of space hogging blocks of cutlery and offers a quirky and cool conversation piece. Hanging blades in a convenient location means mealtime is free from a frantic search in deep drawers or cluttered cabinets.
A delicious walk-in pantry serves to save a million headaches as it offers ample vertical shelving and tons of open built-ins for water, canned goods, soda and baking supplies. Designed with a variety of shelf sizes, wicker baskets house countless food items while making a chic and smart statement.
Check out some more kitchen ideas in our gallery of kitchen photos.
Sliding kitchen drawers are sleek and savvy space savers. A kitchen contractor can provide this solution, which will keep cabinets free of disorganized plates and offers a convenient option for traditionally unused island space. No one will guess there's a tiered plate rack system hidden in your kitchen's center.
A pullout L shaped cabinet creates a genius kitchen solution and an easy organization option for pots and pans. Instead of hours digging for that favorite lid or strainer, save sanity and space with this unique cabinetry. The cabinet doubles as a place to store hard-to-see cooking implements and other cupboard fare.
A cabinet concealed microwave keeps surfaces clean and free of clutter. Seamlessly blended, both the refrigerator and microwave are positioned perfectly to preserve the ambiance and airiness of the kitchen. Enjoy a brighter and cleared space without appliances stealing any surface.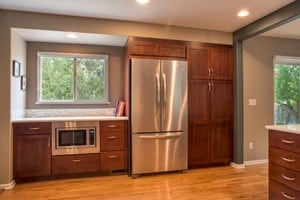 A center island sink offers a second faucet for helping to create meals and prepare food. High reaching cabinets, perfect for kitchen gadgets and cookware, are an irresistible option for the practicing chef. Designed with a unique layout, this double-island space offers plenty of room for cooking and conversation.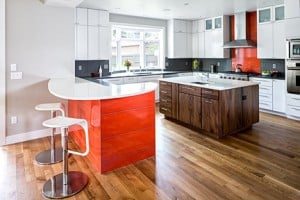 Refresh and revitalize your kitchen with hanging wall wire racks which serve as an artistic option for capturing bowls, wine glasses and baking necessities. Pot racks supply ample charm and space for hanging kitchen keepsakes.
Join thousands of your Boulder County friends and neighbors by signing up to become a Melton Design Build member and receive our free monthly e-newsletter.