Themed Man Caves
Themed Man Caves That Kick It Up a Notch
Man caves come in all forms. Some are expensive and elaborate, while others are simple and done on the cheap. These manly sanctuaries can be decked out in a particular theme or inspired by simplicity. They may display a coveted collection, load up on all the electronic bells and whistles or double as a band room because no matter how you slice it, a man cave's features should reflect the man of house's personality and style.
Men shouldn't feel shunned to the basement anymore, unless that's where they prefer their cave to be! Rather caves can be located in the garage, first or second floor or even the bathroom! The creativity lies within the beholder. If you're looking for a space to carve out and call your own, use the photos below for inspiration.
Stadium seating and turf flooring make this man cave prime seating for sporting events. Never miss a game with multiple TVs. By using a home remodeler, you can create seating that turns 360°.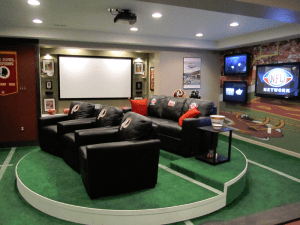 A stonewall is the perfect setting for a man cave. Carve out niches to display special memorabilia then dedicate one wall to photos and another to helmets, trophies and mementos.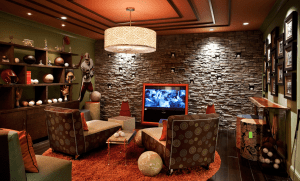 No need to sit facing each other if you know you'll always be catching a game. A well-centered fireplace can keep the temp cozy, while a wall of jerseys encased behind glass help set the tone.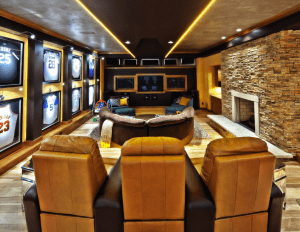 Even a bathroom sink can help transform a man cave. Wood paneling on the walls warms up a small space. Side mirrors hung next to the main mirror keep the motorcar feel going.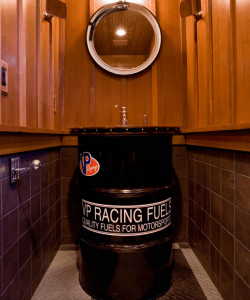 Make the band room fit for hanging out. Loud wallpaper plays against the sound absorbing foam. Keeping pillows, wall color and the couch all within the same four colors will bring the funk without the fussiness.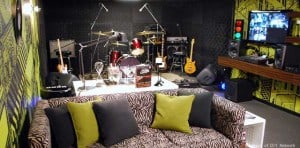 This man cave is a throwback to another era. Use a home remodeler to create an old school soda fountain bar with themed carpeting. Then complete the look with stools, colorful walls and shelves to display collectables.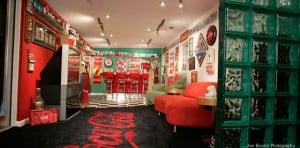 Large spaces can be sectioned off into different man cave areas. A pool table functions best with lots of space around it. Stools along the wall keep the room open yet inviting. A bright color against shades of gray keep the space cool and hip.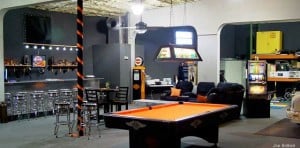 The car-themed couch makes for a great focal point. Pinball machines lined up against the wall are perfect for staying entertained while chatting it up with friends.