Top 10 Kitchen Trends of 2014
Kitchens are the new family room. More and more of today's kitchens are incorporating family and sitting rooms, which sprouts from an interest residential open floor plans. The family congregates to the kitchen for more than food. Dining areas are included in the kitchen space, islands are expanding to include seating areas and homeowners are adding pocket offices into the kitchen space to create a more family friendly area.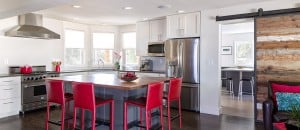 Classic black and white. The appeal of a classic black and white color scheme never dies. This timeless aesthetic is versatile and works for multiple residential architectural and design styles such as traditional, country chic or contemporary.
Fun hues for sinks. Sinks with color are one of the more fun trends in kitchen design! Many designers are moving away from traditional white and stainless steel sinks to spunk up the kitchen with some bold color. A colored sink is a creative way to add a small splash of color into the kitchen design.
Work stations. Specialty work stations are popping up more and more in today's kitchens. Homeowners love the idea of designated spaces for specific tasks and functions within the kitchen; coffee, vegetable cutting, baking, wine tasting or even pizza making stations are all gaining popularity in kitchen designs.
Efficient accessories. In the past, kitchen accessories were often chosen for aesthetic appeal for complimenting other aspects of the kitchen like the sink, appliances or other hardware. Now, homeowners want beauty, form and function all in one. They want their accessories to be multifunctional- cutting boards that pull out of cabinets or a blender that is also a juice and food processor.
Kitchen and drawer organization. Drawers and cabinet trends are moving towards becoming more and more innovative and efficient. People are looking for design drawers that have spice racks, bread boxes, and aluminum foil roll holders to make their experience in the kitchen more seamless. This gives the kitchen more counter space and space efficiency overall. Because of this, homeowners are now able to customize their kitchen organization in a way that works for their family.
Walk-in pantries. Walk-in pantries are perfect for families with children who need to stock their dry goods. Larger pantries give families more space to have snacks and cooking supplies on hand at any time. Moms can have all their cooking and baking necessities in one place keeping food out of the kitchen cabinets to give you more space for supplies and utensils.
Bold light fixtures. Light fixtures are a fun way to express yourself with design in your kitchen. From recycling materials to sleek contemporary design, trendy light fixtures create a design statement in your kitchen plus giving the functionality of lighting.
Automation. Automation is helping everywhere with energy saving and efficiency. This trend began in public spaces and corporations but is now moving into residential technology as well. In kitchen design we are seeing sensor activated lights to detect when people enter and leave the space to ensure no lights are being left on by accident. Hands free faucets are another great automated addition to the kitchen that are perfect for cooks with messy hands. This can help avoid faucets being left on and spreading germs and grime.
Media in the kitchen. Technology and media are everywhere even in the kitchen! People are mounting televisions, installing sound systems and computers to enhance the kitchen experience. A computer or tablet gives cooks access to recipes and cooking tips, sound systems give you background music to enjoy while cooking dinner, or a television allows you to catch your favorite cooking show for inspiration.
Eco-friendly products. Sustainable and recycling materials are trending for home building and design. Kitchen designers can choose from countertops made from recycling glass or eco-friendly cabinetry like bamboo. Also, keep an eye out for Energy Star rated appliances for energy efficiency.