Turn Your Laundry Room into a Room You Love with a Design Build Remodel
A Design Build Remodel Allows You to Create a Lovable Laundry Room
The once daunting laundry room is making the shift to a fun and lively space to show off to your guests. Create a laundry room with a fun atmosphere. You can refresh your laundry space by opening it up to allow better flow or experience more natural lighting. The laundry room can be a fresh, enjoyable space. Use the design build process to remodel your laundry room into a fun-filled space; incorporate these ideas to make your laundry room into a place you love.
Stay Organized

Keep essential and miscellaneous laundry supplies stored in a streamline fashion for a more organized flow. Use shelves next to or above your washer and dryer for storing detergent, dryer sheets and fabric softeners. Cabinets on the back wall or under-counter space create a home for your spare towels, cleaning products, supplies for the kids' art projects and other overflow.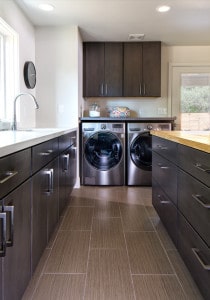 Stack 'em Up
Sometimes dedicating a large space as the laundry room is not a practical option. There are many ways in which you can make the most of your laundry room. Having a stacked front-loading washer and dryer is a great way to efficiently use the space. Optimize space while adding an aesthetic appeal by customizing a space to house your washer and dryer. Enclosing your washer and dryer in a laundry nook can also incorporate some chic design.

Clothesline
Add a sustainable touch to your laundry room by installing a clothesline. This addition to your laundry room will help reduce your energy use, maintain the integrity of delicate fabrics and save you money while helping the environment too. A clothesline will add vintage style and decorative clothespins will bring a fun touch to your laundry room. 

Lighting
Give your laundry room a lively feel by maximizing sunlight into the area. High set windows are great for improving the natural light in the room and achieve an overall vibrant mood. The design build process for remodeling allows you to layer ambient lighting of the entire room with task lighting. Abundant lighting is an ideal option for any laundry room remodel. 

Hiding Place
Rather than leaving all of your dirty clothes out in plain sight, incorporate a hiding place that can be home to this clothing when you do not have time to start a new load. During the design build process, choose a fun way to close off the laundry room space such as double barn doors. When visitors check out your new laundry room, they will never have to see the pile of laundry waiting to be cleaned! 

Counter Space
Make life easier on yourself when it comes to folding laundry. A front loading washer and dryer can provide the added convenience of more counter space. Take advantage and add a countertop for quick folding. Ample counter space, whether attached to the wall or an island in the center of your laundry room, makes completing chores easier. Make the space dual-purpose by adding an in-counter outlet so the island becomes a work or homework space.