Add Some Design Sparkle to Your Kitchen or Bath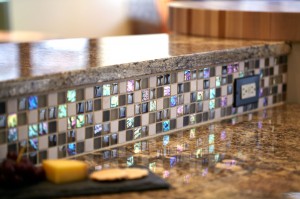 A fresh backsplash design is an easy way to add some panache to your kitchen or bath. Replace outdated tile with popular glass mosaic tile in iridescent colors. For a bold, modern look opt for a glass backsplash with a bright color behind it…maybe lime green or robin's egg blue.
Texture is on-trend for kitchen and bath design. Choose river rock or slate to create a spa-like feel in the bath. Cork makes a fitting backsplash for a wine bar or drink station. Add some brick to your kitchen wall for a stunning Tuscan impression. New products for backsplashes include textured panels that are back-lit for a lustrous glow.
Get creative with your backsplash and design a focal piece in your kitchen that caters to your style. Vinyl stencil backsplashes catch the eye and are an especially fun way to add some color and pattern to a neutral kitchen. Add an embedded spice rack to your cook space for a practical way to "spice" things up! Decorative plates are a simple expression of taste to complete the look. Set up some varying colors, textures or sizes to keep it interesting and enjoy a beautiful new focus in the kitchen!
For more ideas on bold backsplashes, check out our pin board on Pinterest.