Creative Ways to Decorate With Repurposed Materials
Decorating with repurposed materials is on the rise! Many interior designers are getting creative with vintage furniture pieces and retro home decorations to create a whole new unique aesthetic. It was only a matter of time until the recycling trend moved into interior design! Check out some creative directions people are taking with repurposed and reclaimed materials in home design.
Transform your old dresser. Painting with bright colors on old furniture is a great way to liven up the room and turn something dated and exhausted into a trendy transitional interior design piece.
Creative Side tables. Side and end tables allow a ton of design creativity because you can really use any of your favorite décor objects as long as it has a flat surface. Suitcases are a great way to add a stylish vintage feel to the room.
Reclaimed Wood. Many people are drawn the wood aesthetic because of it's versatility in design. It can create a very homey and natural space, or even an industrial aesthetic when paired with cast iron. In one of our more recent projects, this contemporary kitchen design paired with the reclaimed wooden sliding door helped create a beautifully balanced transitional feel to the space.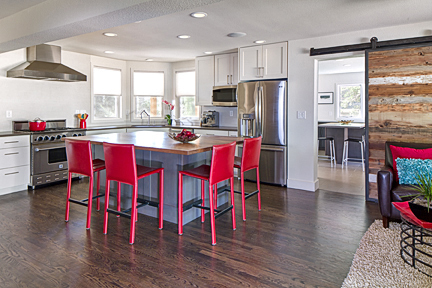 Unique TV stand. This oversized easel is a really smart and unique idea for a home with an open floor plan. If you're dining area is connected to both your kitchen and living area, placing a TV on a moveable easel allows for movie watching in any of these rooms.