Spring Spruce-Ups for Your Home's Exterior
Ahh, spring. For many of us spring means time for working in the yard and projects around the house. To get big bang for your buck, think about an exterior spruce-up.
Windows and Window Walls. New windows not only may lower your energy bills, but with all of the new styles on the market, they can give your home a whole new look. Think about how your lifestyle might change if the whole back of your home opened to your yard with a series of glass accordion doors. Your view expands, and your home suddenly gains square-footage with outdoor living space.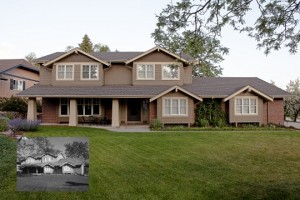 Updated Materials. Replace tired siding with updated, maintenance-free materials for a long life and a fresh coat of paint for a whole new look. Create an updated mountain-style look–slat boards in rich wood tones look beautiful as a complement to natural stone or in contrast to cool concrete. Add some funkiness to a traditional home design by topping it with a modern, metal roof.
Go for a Theme. Transform a typical seventies exterior into a Mediterranean mirage with ancient-looking stonework, heavy beams and wrought-iron trimmings. Love the Southwest? Think updated adobe home with stucco, decorative tiles and exposed, round wooden beams.
For more inspiration on exterior design, check out our ideabook on Houzz.com