7 Great Ways to Let the Light In
Often times, lighting design is overlooked when constructing a room layout in part because if the lighting is done well, it's something many people won't notice. Here in Colorado, a large part of lighting design is finding ways to open up the space to let the beautiful natural light into the home. By doing this you can avoid a lot of  harsh unnatural indoor lights, areas of the home will appear more open and spacious and home energy will be more efficient.  
Clerestory windows: Windows near the ceiling maximize sunlight without compromising privacy. With clerestory windows, you can have natural overhead lighting in your home instead of relying on chandeliers and ceiling fan lights.
Above-the-counter windows: These windows are often placed above counter tops or in the space between the cabinets and the counter tops in the kitchen or the laundry room. This lighting design option gives you natural task lighting when working on the counter tops in your home.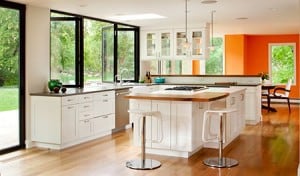 Skylights: If you have cave-like parts of your home like windowless hallways or lofted areas, skylights can help brighten up your lighting design! These windows are best if they face north to avoid overheating that part of your home.
Windows onto stairwells: Stairwells aren't the first places you may consider adding light, however they are often windowless and dark. Adding windows in your stairwell can offer another space illuminated with natural light in your home that would normally be dark.
Open floor plans: Open floor plan home designs are a great solution for allowing natural light to shine further throughout your home. Knocking down walls creates more open space for natural light to shine through an entire floor of your home.
Large mirrors: Large mirrors are an easy way to expand natural light throughout a room.  Mirrors reflect the light around the room giving it a more open and bright feel to the space.
Lighting variety: Adding fixtures with different brightness levels at various heights throughout the room can help make the home design look open and illuminated. The lights in this kitchen allows for ample task lighting throughout the space.