Bathroom Spa Remodeling Tips
Bathroom Spa Remodeling Tips
There's nothing more soothing than a nice warm spa after a hard day's work. Having this option in the comfort of your own home doesn't have to be a fantasy. In fact, this space is an ideal setting for renovating into a spa. It actually doesn't take much to transform a bathroom into your own private getaway. Regardless of the bathroom's size, the elements that are implemented must radiate exotic with a balanced degree of relaxation. Depending on your vision and budget, a home sauna can virtually match commercial layouts or lack a few additional features while still establishing that allure of steamy comfort.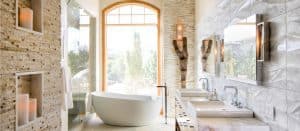 Spa Renovation Tip #1: In Sight and in Mind
Much of the calming affect you feel in a spa is generated by its appearance. How the space looks plays a big role in this formation and is a key component to the process. Keeping the walls and countertop minimal gives off that clean concept of island tradition. By making sure the paint matches an earth tone such as green, brown or gray, your bathroom will immediately make your shoulders drop. Add some lights that have dim control so you can adjust the range to your liking. Lights that are dully illuminated certainly give off that leisure lifestyle; a must have for spa fanatics.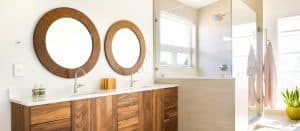 Spa Renovation Tip #2: Simple Features for Shower and Tub
Utilizing wood is almost a requirement because of its zen-like appeal but can have problems handling moisture and liquids. Thanks to faux wood tile, the flooring of your spa will closely resemble classic wood. In reality, it's your common ceramic or porcelain but still sells the dojo dynamic.
When it comes to bath and shower types, we would suggest looking into the Japanese Deep Soaking Tub. If the name doesn't give it away, these tubs are a lot deeper and come installed with seats. Being able to submerge your entire body from the neck down is a privilege not typically granted with Western tubs. Make sure to toss in some fresh flower pedals and let yourself bloom like a lotus. If a tub just doesn't sit right with you, we strongly recommend you to get a massage showerhead. These are perfect because they go overhead and provide a deep cleansing experience.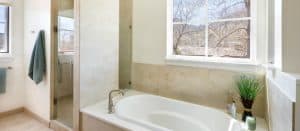 Spa Renovation Tip #3: The Warm Aroma
Is adding aromatherapy even a question? We think that if this ingredient was missing, your bathroom wouldn't truly be a spa. You'd be surprised how strong smells and fragrances can shift the mood and put you in a relaxed frame of mind. Select scents that that will make your brain immediately associate with tranquility. Lastly, get a basic towel warmer that will make it easier for you to dry off. This technology keeps towels warm and is even available as a specialized vanity drawer.