Changing Floor Plans – The Magic of Starting Fresh
Starting Fresh
There are so many reasons to change your floor plan, and so few people realize how possible it is! Reworking your floor plan can completely change your home and your life as a whole. Imagine your home, perfectly customized to suit your needs. No more wasted space, no more unused rooms. There are so many great reasons to change your floor plans. Maybe you work from home, or your kitchen table has become your home studio. Perhaps you need a mother-in-law suite, or you don't need one at all, but it came with your house, so you've been letting it just sit unused. Give yourself the gift of a refreshed floor plan and allow yourself to start fresh. You'll be surprised by how much it improves your quality of life.
Open up Your Floor Plan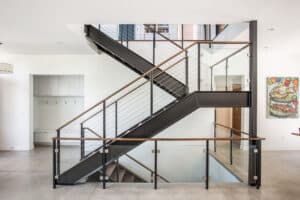 In years past, it was common to create a series of small rooms to allow for efficient heating and cooling. However, this type of floor plan can make the home feel smaller and make it difficult to get a lot of natural light in all of the rooms. Creating an open floor plan allows for a bright, airy feel and makes your overall space feel more spacious. Open floor plans work particularly well for hosting. Master the open floor plan by working with a home remodeling expert to create one ample living space. You'll need a professional for this type of project to ensure the definition of your floor plan is maintained.
Transform Your Garage into an Event Space
If you find yourself entertaining often, but lacking the space you need to do so successfully, this could be the perfect solution. Turning a garage into a room can add to your square footage, offering a solid return on investment. Make this space into whatever you like: a painting studio, a man cave, or an entertaining room.
Create a Master Bedroom
If your home was built before the 80s, you might not have a master bedroom at all. Master bedrooms didn't become an integral part of the typical home until the 80s. Just because one didn't come with your home doesn't mean that you can't have a master bedroom of your own. . Talk to a designer about using two adjoining bedrooms to create your dream master bedroom. To account for all load-bearing walls, you will want professional assistance for this type of project. You will also need plumbing, building, mechanical, and electric permits to undertake this project.
However you end up chaning your floor plans, you are sure to enjoy a fresh new design. You will feel the exciting feeling of a brand new home. Talk to a remodeling expert to get your new floor plan started.
Read More Blog Articles