6 Tips for a Trendy Home Office
"Working from home" is a concept that Americans have gotten used to and even enjoy. In fact, U.S. Census Bureau statistics show that 10.9 percent of Boulder area residents work from home, more than any other city in the nation. What you need in a home office depends on whether you run a home-based business, bring work home regularly, telecommute a few days a week or simply need a place to put your laptop to pay household bills. A "trendy" home office is one that works for you while you're working. Here's what we mean…
1. Pocket office. The trend toward compact homes means less space to devote to an office. What's trending now for many families is the "pocket" office, a workspace carved out near the high-traffic areas of the home, often in a closet with the door removed. It's a hub for home management activities: paying bills, coordinating the family's schedules and keeping everyone organized.
2. The writing's on the wall. If you like to "think big" when you brainstorm, you can turn a whole wall into a whiteboard or a chalkboard with special paint, like IdeaPaint Create dry erase coating or Benjamin Moore's Chalkboard Paint. Take a snapshot of your work with your smartphone, then wipe it clean and start over!
3. Yipes! Skypes! When you work remotely, chances are you do some video conferencing. Remember that what's behind you is what the other person will be looking at. It doesn't need to be a bare wall, but keep the view as simple and neat as possible. (You might be able to still keep the fuzzy slippers if they stay hidden under the desk!)
4. Cut out the bulk.  Big desks with giant leather chairs are for big formal offices. A smaller scale writing desk, table, a standing or kneeling desk, or an adjustable-height work surface might be better suited to your work-at-home style. Mesh chairs, like the Herman Miller Aeron, or a desk chair in white or a bright color add a fresh and airy ambiance.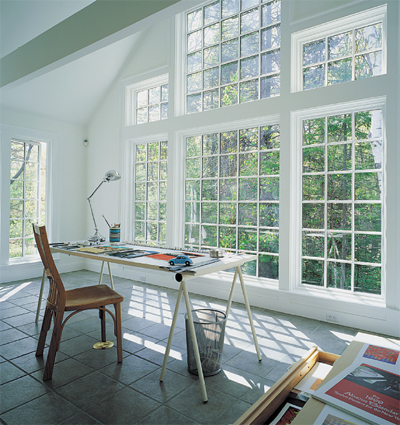 5. Enjoy the view. Having an efficient office doesn't have to mean you'll be staring at bare walls. Arrange the room so your desk looks out on an inspirational view of the Flatirons. Surround yourself with things you love to look at, whether it's art prints, sculpture or plants (which also improve the indoor air quality) and you might even increase your productivity.
6. Shrinking electronics. Chances are you're not using a big desktop computer. If you're working on an iPad or tablet, extras such as a snap-on keyboard or Bluetooth speakers make worklife easier and more comfortable. The more wireless devices you can include, the less you have to worry about containing cord clutter.