Create Your Signature Interior Design Style
All too often homeowners, in an attempt to redecorate or refresh their homes, will run out and purchase several beautiful pieces they love, put them all in a room together but somehow the look just isn't quite what they had envisioned. It's a common mistake thinking that all of the things you like will magically give your home a magazine-quality look.
A better way to accomplish your goal, short of hiring a designer to shop for you (a great idea in itself), is to know your design style, understand the principal elements of that style and recognize pieces that work well together by considering scale and color. Once you have an understanding of those rules, you can learn how to successfully break them to create your own signature look.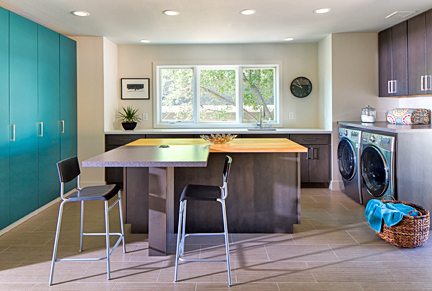 If you think about it, there is a myriad of design styles ranging from the classic arts and crafts to industrial to Tuscan. However, to make things simple, we will begin with four broad categories that many other styles fit into in one way or another: traditional, modern, contemporary and transitional.
Traditional
Traditional style is one we are all familiar with, and it's easy to spot. The principal elements of this design genre are dark woods; intricate floral patterns; furniture with curved, intricately carved legs; corbels and crown moldings on cabinetry and a neutral color palette. Classic furniture styles from the 18th century, such as Chippendale and Queen Anne, are cornerstones of traditional design.
Modern
Modern design is a bit tricky because in the interior design world, modern doesn't follow the Merriam-Webster definition: of, relating to, or characteristic of the present or the immediate past. Instead, modern is the name given to a specific design aesthetic developed from the 1920s through the 1950s. Think of the popular mid-century modern made famous by Architect Frank Lloyd Wright or even the famous furniture styles by Le Corbusier and Mies van der Rohe.
Mid-century modern is a style of its own. However, the lines and aesthetic are a culmination of the modern era of design. Principal indicators of modern design are clean, sleek lines; heavy use of woods in both architecture and furnishings; molded wood and plastic furniture and open floor plans.
Contemporary
Contemporary design is often confused with modern design. However, while modern represents a specific period in time (similar to traditional design), contemporary is always changing because it refers to design trends that are popular "today" no matter what day it is.
Contemporary design trends for the fall of 2013 include: animal print furnishings; rich colors such as emerald green and regal purple; a return to the white kitchen; masculine spaces beyond the "man cave" of the late 1990s and early 2000s; LED lighting for efficiency and design aesthetic and the color gray–it's everywhere in contemporary interior design.
Transitional
Transitional can be another tricky interior design style to spot. Think of it as a convergence between traditional and contemporary. It includes some basic tenets of traditional design such as a neutral color palette; soft, curved lines in furnishings and details such as crown molding. The difference in these elements is a less-fussy take on the traditional design. For instance, a transitional cabinet style might have crown molding, but it will be a much smaller, simpler design than a traditional-style crown that is oversized and ornate.
Now that you've got the elements of the four main design styles under your belt, be sure to check out next week's blog on how to mix patterns and colors and create your own signature look. Like us on Facebook to be sure you don't miss it!