Kitchen Design Trends from Transitional to Techno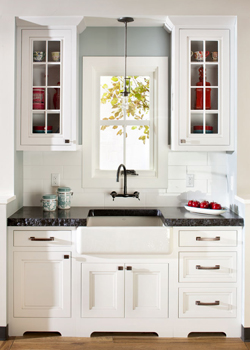 Trendy kitchens have become open, inviting spaces for family and friends. Not only do they feature modern technologies and materials, they incorporate design that eliminates boundaries between kitchen and living areas.  Open floor plans provide more cooking space and make for increased family time. Transitional design is a valued trend for home kitchens.  A comfortable, homey kitchen with a few modern updates will bring this transitional style to life.
Color: Painting your kitchen with a trendy color palette can create the updated look you desire. Gray is a lasting trend and a great compliment to bold color pops such as emerald glass backsplashes or deep red bar stools. Another popular kitchen palette is black and white. An overall white space with touches of black in knobs and countertops creates a polished look.
Materials: White cabinets are versatile and enduring and deliver a light, clean appearance. Low maintenance and modern countertop materials are taking center stage. CaesarStone countertops are popular options and can be created in customized colors. Choose an exciting solid color to punch up a neutral kitchen or a soft blend for a subtle addition.
Technology: Give your kitchen a techno touch. Eco-friendly touch faucets are valued for their water conserving design.  These modern faucets help create a more "green" home and are designed to complement all kitchen décor types.  LED lighting is another impressive effect in trendy kitchens. Lighting under cabinetry has a practical use for illuminating workspace but it also delivers an awe-inspiring aesthetic to bring your kitchen up to date.