Melton Gives Back- Paige's Room Makeover
We are so excited to share our There with Care room makeover project with you that we did for an extraordinary person last month. It is one of our favorite projects to date:
The Story
We first met Paige through There with Care. Paige had a severe health issue occur this year that devastated her and her family. She is now recovering after months of hospital visits. After hearing her story, we knew we wanted to give back to her and her incredible family after enduring such a hard year.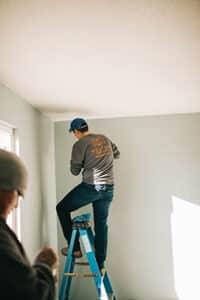 The Process
Our designers met with Paige and her family a month before the renovation to gain inspiration from her. Together they began designing a bedroom for this adventurous, creative, and vigorous 9-year-old girl. We wanted to give her a space that she could grow into and a place where she could come to life. Our designers keyed into Paige's brave attitude and made sure her room reflected that. Paige loved the blue aesthetic with bold golden accents, fun textures, and a canopy nook with a bamboo nest chair. Mostly she wanted a place she could be herself in and do the things she loves (i.e., making slime!).  
Melton designers and production teams worked together one weekend in December to make the room come together. The Melton team met on a Friday to paint and prep the room. Saturday, we built furniture, installed shelving, and put in the final touches. Paige was thrilled to be able to help and make her room her own.
The Room
!

We were so excited to see the There with Care room makeover come to life. Paige waited anxiously as the team put the final touches together. Inspirational art and a new CD player were some of the final touches we wanted as a surprise. The final reveal made it all worth it. Paige loved her new space, and we're so happy to give someone so deserving of a room makeover this opportunity.
There with Care
But mostly, we want to thank There with Care for connecting us to such an incredible family. We are so thankful for the work they have been doing for children and their families in the Boulder area.
To see the whole process from start to finish check out the video below!: