Tips for Renovating a Small Space
Make the Most of Your Space
There is something charming about a small space. Cozy spaces bring families together. Living with limitations encourages people to value the items they use every day, and rethink the things they don't need. When looking to update your small space design is of the utmost importance. Quality over quantity is the trend for homeowners looking to live in a contemporary, curated space without the excess. When planning your small space remodel here are some tips we think you should keep in mind:
Choose Quality
Quality is critical when redesigning a small space. One of the most significant advantages is that your budget goes a little further when planning for quality vs. quantity. Consider making quality choices for your home that will last and support the function of your family's daily lifestyle.
Utilize Storage Space
Maximizing storage in your home is a useful skill for all homeowners. Start by examining the items you own that you need in your life and that bring purpose in your home. It's important to declutter and consider what household items are necessary. Be very selective when allowing new items into your home. With the remaining items, maximize spaces and storage. Organize draws efficiently, utilized space under couches, and create recessed storage when possible. You may feel inspired to give purpose to that space under your staircase as well!  Use features such as verticle storage spaces and sconce lighting to free up floor space.  You may feel inspired to give purpose to that space under your staircase as well!
Let in the Light
Small spaces can be made to feel instantly bigger by using proper lighting techniques. If given the option, lower windowsill heights to allow as much light into the home as possible. Utilizing track lighting illuminates walls tastefully while also visually extending the room. A combination of big windows, contemporary lighting solutions, and the use of hanging mirrors can all enhance the feel of a small room.
Make your Renovation your Own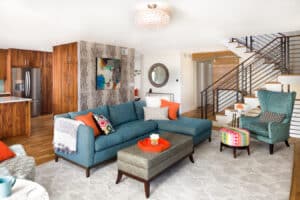 As always, what is good design if it doesn't work for your household. Honestly think about the way your family functions in your home and design the house to support your family's needs. Opt for fewer walls and create more multipurpose rooms. Some designers are getting creative by replacing doors with sliding walls to let spaces breathe. There is always the option to include room dividers for those moments your family needs space. Remember, less is more. Keeping your space decluttered is crucial and can make even the smallest of rooms feel spacious.
Outdoor Living
You can instantly gain extra square footage by utilizing your outdoor space. Is your home's outdoor space being used to the fullest? In Colorado, there are many sunny and warm days where you can utilize a back yard or front porch and enjoy good conversation late into the evening. Consider plush outdoor furniture and market lights to create an outdoor living room. In the winter, make time to walk outside to get fresh air, and the exercise will surely be good for you and your family.
Edit for Functionality
During the design process, ask yourself, "Is this beautiful? Is this useful?" to create a home filled with meaningful objects and design that will stand the test of time.
Read More Blog Articles