What is Design-Build Remodeling?
What is Design-Build Remodeling? 
Imagine having an entire team of experts working alongside you to bring your vision into reality. Design-build firms recognize that it takes a village of dedicated and knowledgeable people to transform your home. Most design-build firms are comprised of interior designers, architects, estimators, project managers, and carpenters.
This method can prove to be very beneficial as seamless communication is easier to achieve when everyone is under one roof. Your vision can be carried from the design phase into the construction phase with fewer mishaps. Any mishaps that do occur can be maneuvered through with greater skill and ease.
How can design-build remodeling benefit a homeowner?
Homeowners can reap many benefits when opting for design-build remodeling.
Great workable plan:
It is essential to create a home design that is practical to implement. When designers work with builders in refining all the small details, a collaborative plan emerges.
Smoother project execution:
Since the designer and builder work together from start to finish, the entire project can be expected to run more smoothly. Anything that may have been missed while designing can be caught during construction. On the reverse, any issues that emerge while in the construction phase can be resolved with elements of design.
Stronger professional team:
Choosing a single team ensures an open channel of communication with fewer mistakes and less confusion. It is easier to go from point A to B, thus creating a more reliable and professional team. If any hurdles do arise, both sides can work together to arrive at a feasible solution. Homeowners can rest assured that their plans will make it to successful completion.
Ensuring care of the existing home:
It's important to consider the existing structure of the home when creating project plans. While the designer works on the interior design elements, the builder understands how the new designs will impact the overall construction.

Home renovation within set budget:
Design-build firms typically have estimators on staff. They arrive at a finalized budget by reviewing the plans and estimating the cost to build. Since design, construction, and estimating are all carried out by a single company, there are fewer last-minute or unforeseen financial stressors. Homeowners have less worry about.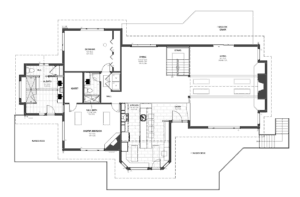 In the design-build world, everyone moves towards a common goal. With your team, your vision is taken from idea to paper to finished product. Whether you are looking to add a room, remodel a room, or tear it all down and build anew, a design-build firm can reduce the hassle involved with home renovating. Their collaborative style ensures consistent communication, creative solutions, and incredible results. Your project is good hands.
If this process style seems like a good fit for you our team would love to discuss your project. Contact us today to get started.


Read More Blog Articles